Spending by groups outside Virginia overwhelmingly favors former Democratic Gov. Terry McAuliffe over his Republican rival, Glenn Youngkin in the Virginia governor's race, according to news reports.
According to data from the Virginia Public Access Project, a nonpartisan campaign finance group, the McAuliffe campaign has raked in $15.9 million in contributions from political action committees (PACs), labor unions, and activist nonprofits as of its latest filing (through September 30).
In contrast, Glenn Youngkin's campaign reports $6.6 million in donations from a handful of PACs and business associations.
The Left Brings Out the Big Guns
Roughly one-third of the pro-McAuliffe spending comes from the Democratic Governors Association, which gave McAuliffe's campaign $5.7 million, and the Virginia Democratic Party.
Another third comes from labor unions and labor-aligned PACs. The Service Employees International Union (SEIU) and American Federation of State, County and Municipal Employees (AFSCME)—both public-sector unions and pillars of the institutional Left—have sent his campaign six-figure donations, as have multiple other labor unions.
The National Education Association (NEA) and American Federation of Teachers (AFT) together gifted McAuliffe's campaign $675,000. A recent poll indicated that 1 in 5 Virginia voters view education and schools as the most important issue in the coming election. Pundits believe that McAuliffe's recent comments that parents shouldn't "be telling schools what they should teach," past support for critical race theory, and statements about "systemic racism" (he authored the 2019 book Beyond Charlottesville: Taking a Stand Against White Nationalism) have put him on defense.
Both teachers unions support critical race theory in public schools. In June, the NEA approved a plan to "increase[e] the implementation" of critical race theory in all 50 states. In July, AFT president Randi Weingarten vowed to defend critical race theory in classrooms because it presents an "honest history" of the United States.
Activist groups supplied $2.9 million to the McAuliffe campaign. Affiliates of Planned Parenthood, the nation's top abortion provider, gifted him over $700,000. Priorities USA, which received $27 million from former New York Mayor Michael Bloomberg last year, sent McAuliffe $605,000. Priorities USA was the 10th-largest PAC in 2020, according to OpenSecrets.
Other contributors include Black Lives Matter PAC, the judicial activist group People for the American Way, gun control groups Giffords PAC and Everytown for Gun Safety (also heavily funded by Bloomberg), and American Bridge 21st Century, an anti-Republican attack group.

Not counted in this $15.9 million are McAuliffe's top individual donors, such as former Facebook president Sean Parker, who gave him $250,000; Democracy Alliance co-founder Patricia Stryker, who also gave him $250,000; billionaire George Soros, $250,000; investor and Democratic Party mega-funder Fred Eychaner, $200,000; and investor Ron Burkle, $100,000.
Business for Youngkin
Youngkin has received considerably less from outside groups. The Republican Governors Association has gifted his campaign $6 million, by far his campaign's largest contribution save for the $17.5 million he has personally loaned to it.
The Virginia Maritime Association, a seaborne commercial trade group, sent his campaign $250,000. Other major funders include the Conservative Leadership PAC, which trains young activists, and the American Economic Freedom Alliance, which lobbies for free-market policies and candidates.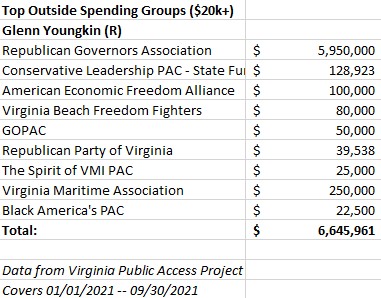 Pete Snyder, a marketing executive who ran for the Republican governor nomination earlier this year, donated $260,000 to the Youngkin campaign. Thomas A. Saunders III, an investment banker and former Heritage Foundation chairman, gave Youngkin $250,000. Coal magnate Richard Baxter Gilliam donated another $210,000.
A National Bellwether?
I've documented the left-wing groups pushing vote by mail in Virginia here and here, including the SEIU's funding for mail-in ballots. It's uncertain whether mail-in ballots consistently boost Democratic turnout over Republican turnout, but many groups on the professional Left clearly believe they do.
Many observers believe the outcome of the Virginia governor's race as well as control of the state House of Delegates will offer a glimpse into the Democratic Party's fortunes in the 2022 midterm elections.
Early voting began in September. With less than a week until Election Day (November 2),
the latest polls show McAuliffe and Youngkin virtually tied, with increasing momentum behind Youngkin.