An op-ed by Capital Research Center Board of Directors member and Heritage Foundation fellow Edwin Meese III was featured in the Wall Street Journal and the Daily Caller.
As Mr. Meese points out, the Southern Poverty Law Center (SPLC) has repeatedly smeared conservative and mainstream organizations as "hate groups" because they disagree with the SPLC's stances on many political issues. U.S. Attorney General Jeff Sessions and the Alliance Defending Freedom, a respected civil-rights law firm, are the SPLC's latest undeserving victims:
I also know Mr. Sessions as a colleague and friend. His distinguished service to the nation over three decades, now as part of the Trump administration, has been rewarded with vicious attacks by the media and political opponents.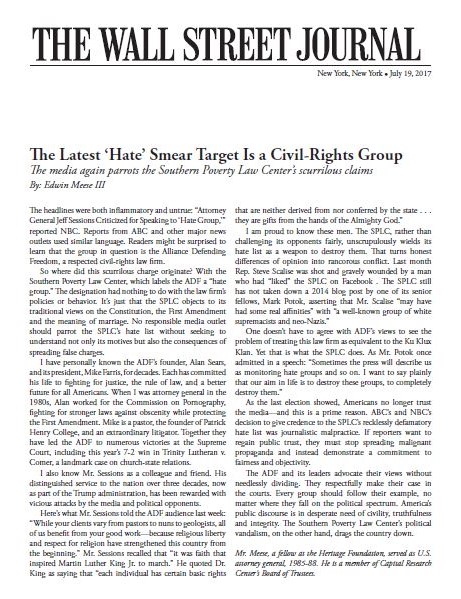 Mr. Meese served as U.S. attorney general for the Ronald Reagan administration from 1985-1988.
CRC was a proud part of the effort to halt the use of SPLC's slanderous "hate group" labels by Guidestar, a nonprofit monitor – read CRC president Scott Walter's op-ed on it here, featured on FOX News here.
Catch James Simpson's report in Organization Trends on the SPLC here.