Organization Trends Leftists Protest Supreme Court Rulings on Census Citizenship Question, Redistricting
---
The U.S. Supreme Court was the scene of a left-wing rally Thursday as protesters from 25 different activists demonstrated against the major rulings handed down by the Court.
The rally was led by Demand Justice, a judicial advocacy group that regularly organizes protests outside of the U.S. Congress and Supreme Court. The group led many of the efforts to derail the confirmation of Justice Brett Kavanaugh to the Court last year.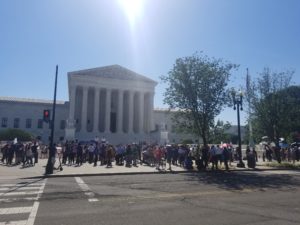 In 2018, CRC identified Demand Justice as a "pop-up" group created by the Sixteen Thirty Fund—the lobbying arm of a vast "dark money" nonprofit network exposed in CRC's exposé Big Money in Dark Shadows.
The Supreme Court handed down a mixed ruling on the Trump administration's decision to add a citizenship question to the upcoming 2020 census, which many groups on the Left oppose. According to Chief Justice John Roberts, the federal government may lawfully include a citizenship question in the census; however, the Commerce Department (which administers the census) has not yet provided sufficient evidence to justify adding such a question to the 2020 census.
The U.S. Census Bureau included such a question in every census but one between 1890 and 2000, according to the conservative Center for Immigration Studies citing Census Bureau data, although it was only included in roughly 6 out of every 10 questionnaires. The Trump administration's proposal would include a citizenship question in all census questionnaires.
The Supreme Court also ruled in a case concerning partisan redistricting in North Carolina and Maryland that the federal judiciary plays no role in determining the legality of congressional districts drawn for political expediency (a process criticized as "gerrymandering" from both right- and left-wing advocates).
"By finding that drawing Congressional districts is an inherently political question, the Supreme Court reached the correct decision," CRC research director Michael Watson explains. "As CRC's new report The Myth of Nonpartisan Districts shows, supposedly 'fair' and 'independent' redistricting processes can be more skewed from statewide vote margins than partisan-drawn district maps."
The protesters at the Supreme Court today, unsurprisingly, disagreed. A spokeswoman from the pro-illegal immigration group, Fair Immigration Reform Movement, led them in a chant of "Si Se Puede" ("Yes, We Can"), a phrase coined by labor activist Cesar Chavez, who opposed illegal immigration.
Nana Gyamfi, executive director of the Black Alliance for Just Immigration, castigated the Court's rulings as "racist" attempts to "whitenize" America, claiming the citizenship question, in particular, was a scheme concocted by President Trump and his "white nationalist" supporters. Rep. Veronica Escobar (D-TX) added that the citizenship question was an effort "to ensure [that] people remain voiceless."
CRC identified the following left-wing activist, environmentalist, and religious organizations at the protest:
Demand Justice
Democracy Initiative
Alliance for Justice
Common Cause
People for the American Way
Bread for the World
United Church of Christ
Church World Service
Nuns on the Bus
National Council of Jewish Women
CASA de Maryland
Asian Americans Advancing Justice
Fair Immigration Reform Movement (FIRM)
New York Immigration Coalition
Make the Road New York
Black Alliance for Just Immigration
NAACP
Color of Change
Sunrise Movement
League of Conservation Voters
Planned Parenthood Federation of America
National Women's Law Center
National LGBTQ Task Force
National Partnership for Women and Families
Leadership Conference on Civil and Human Rights
Human Rights Campaign