The Myth of a Conservative Carbon Tax (Full Series)
Environmentalists Infiltrate | Ignoring Basic Tax Policy | Creative Accounting and Redistribution | A Who's Who of the EcoRight
Summary: Is stopping global warming a conservative position? It could be—if a handful of environmentalists get their way. Meet the "eco-right," a small but well-funded group with connections to prominent activists on the Left. And these climate change conservatives have one goal: turning a left-wing talking point—like carbon taxes—into a Republican Party plank.
Meet the "Eco-Right"
The cabal goes by a trendy name: the "eco-right," conservatives who agree with the Left's argument that the Earth is heating up and human industry is at least partly to blame. There's a distinctly millennial vibe to the movement—such as RepublicEn, an eco-right project of George Mason University in Fairfax, Virginia. The group was launched in 2012 by executive director Bob Inglis, a longtime congressman from South Carolina who lost his seat in 2010 to Tea Party upstart Trey Gowdy by an astonishing 71-29 percent despite an appearance on left-wing comedian Steven Colbert's show to try to rally Colbert's left-leaning viewers to save his seat.
RepublicEn is part of the university's global warming research division, the Center for Climate Change Communication (4C), and while it is barred from lobbying, the group's young managing director, Alex Bozmoski, has stated in interviews that the group intends to raise grassroots support for a carbon tax bill like Curbelo's. "If we had 100 people in 50 of the right congressional districts phoning their support for climate leadership," he told the left-leaning website Greentech Media, "I have no doubt that Congressman Curbelo would experience a rush of enthusiasm for his bill and quite possibly for amending his bill."
That's not surprising, given Bozmoski's boss's views on global warming. Inglis—conveniently selling a martyr narrative to his left-wing friends—credits his 2010 loss to his 2009 proposal for a $15 per ton carbon tax (rising to $100 per ton by 2040). Since then, he's become something of a hero to the environmental Left; a Google search of his name yields dozens of gushing headlines by liberal media about the "conservative who believes that climate change is real" and the "confessions of a Tea Party casualty."
"The most enduring heresy was just saying that climate change was real," Inglis said after his defeat. "For many conservatives, it became the marker that you had crossed to Satan's side—that you had left God and gone to Satan's side on climate change."
And that's the real theme of much of the "eco-right": left-wing policies billed as bipartisan solutions. For example, RepublicEn's sponsor, 4C, has received millions of dollars in grants to "mitigate climate change" and "advance policy solutions for a stable climate" from left-wing funders including the Energy Foundation, Skoll Global Threats Fund, and the Sea Change Foundation.
Many of its staffers have a background in left-wing activism as well. Wen Lee, the group's engagement director, previously worked for a number of left-wing nonprofits, including the Center for a New American Dream and Alliance for Climate Education—both of which are funded with millions of dollars from organizations like the Tides and Packard Foundations. Chelsea Henderson, RepublicEn's director of editorial content, is a proponent of a Republican carbon tax, calling it "the preferred compliance mechanism of conservatives and economists . . . for solving climate change."
It's no wonder, then, that Inglis sits on the advisory board of the Citizens' Climate Lobby (CCL), a position he shares with George Shultz, James Hansen, Steven Chu, University of Massachusetts-Amherst Professor of Social Justice Barbara Love, and those renowned climate authorities—liberal actors Don Cheadle and Bradley Whitford (the latter's qualifications include playing political advisor Josh Lyman on the TV show The West Wing).
CCL, an organization with ties to a number of right-leaning carbon tax advocates, has also lobbied Congress for a carbon tax—most notably the Climate Solutions Caucus, a bipartisan House caucus whose members are generally sympathetic to such legislation. But while CCL markets itself as bipartisan, its employees are not. According to Federal Election Commission data, CCL staffers have donated to the reelection campaigns of Sen. Dianne Feinstein (D-CA), Sen. Jeff Merkley (D-OR), and other Democratic Party campaigns, but not to Republicans. CCL is also a member of the U.S. Climate Action Network, a climate change advocacy coalition of left-wing standbys like 350.org, the Center for American Progress, Environmental Defense Fund (EDF), and Greenpeace.
Trojan Horses for the Left
Perhaps the most active conservative climate change activist is North Carolina entrepreneur and philanthropist Jay Faison. In 2015, Faison sold the majority of his stake in the company he founded— audio-visual equipment manufacturer SnapAV—to fund his climate change lobbying machine, the ClearPath Foundation, to the tune of $175 million. Using 501(c)(3) research and 501(c)(4) advocacy arms alongside the ClearPath PAC, the group aims to make climate change policies a plank in the Republican Party platform.
Neither ClearPath nor Faison want to deal with Democrats—just Republicans. For one thing, he's a regular donor to the GOP. "I support a free enterprise system unshackled from bad regulation and big labor unions," he wrote in Politico shortly after launching ClearPath, "but I also believe that my party needs a fresh approach on one of the most important issues of our age"—climate change.
Both Faison and ClearPath are critical of the Left's approach to curbing carbon emissions. He's criticized the League of Conservation Voters and other left-wing environmental groups for shunning nuclear energy as a solution to global warming—something for which ClearPath advocates.
On the other hand, Faison has sat on the board of directors of a regional council of the left-wing advocacy group Environmental Defense Action Fund (the advocacy, electoral, and lobbying arm of Environmental Defense Fund), and briefly on the group's National Council. He also served on the board of EcoAmerica, another environmentalist nonprofit that has received $3 million in grants from the MacArthur Foundation since 2012 to support its climate change research. Faison was a panelist at the Future of Energy Summit in 2015 and 2016 alongside such speakers as environmental activist and liberal stalwart Al Gore and Debbie Dooley, a Republican activist widely considered an ideological sellout—particularly on climate change initiatives.
ClearPath's leadership has similarly murky ties. The group's executive director, Richard Powell, served on the board of the Circumpolar Conservation Union (a partner of the Natural Resources Defense Council), and collaborated with the NRDC and EDF as a speaker at multiple conferences hosted by the liberal Aspen Institute. ClearPath board member Robert Perkowitz has served on the boards of the EDF and the Sierra Club. Perkowitz is also the founder and CEO of EcoAmerica (which has received hundreds of thousands of dollars in grants from ClearPath).
ClearPath represents the anti-carbon tax wing of climate change conservatives. In 2016, Faison told the left-leaning website CityLab that he rejects a carbon tax: "We are for more affordable clean energy, not more expensive traditional energy." Instead, ClearPath wants to reduce carbon emissions through a combination of hydro, nuclear, clean coal, and natural gas energy sources.
That hasn't stopped many conservatives from mistrusting Faison, however, hinting at ClearPath's role as a kind of "trojan horse" for the environmental Left. Myron Ebell—the environmental policy director for the right-of-center Competitive Enterprise Institute who headed the Trump transition team for the EPA—noted this lack of left-wing criticism in 2016. "There is a second-order irony," he said, "in that green energy companies and Jay Faison's ClearPath Foundation aren't attacked by the Left for belonging to ALEC [the American Legislative Exchange Council]."
The American Conservation Coalition
Not every group on the eco-right is so opposed to a carbon tax, like the American Conservation Coalition (ACC)—a Wisconsin-based eco-right group headed by a millennial, Benjamin "Benji" Backer. While ACC's website claims it is "giving conservatives a voice on the environment," Backer seems more interested in getting attention from Big Green. In February, he was interviewed by Defend Our Future, the youth project of the left-wing Environmental Defense Fund—a $150 million per year environmental advocacy group and staunch supporter of the Obama administration's Clean Power Plan. (His interviewer fatuously insisted that climate change drives terrorism, saying: "You want to look to where terrorism and strife seem to be strongest, it's hot places.")
And while ACC stated on August 13 that it "has rightfully [sic] refused to take a position on the [Curbelo] carbon tax," the website WayBack Machine shows that, as of September 2017, it had called for something similar (ACC has since removed the text from its website):
Experts agree: climate change is occurring, and human actions contribute to it in a significant and measurable way. ACC is open to all proposals focused on curbing the effects of climate change. . . .

There is a need to take action with a measure such as a carbon pricing policy that is noninvasive, fair for both businesses and citizens, and cuts costly and ineffective regulations [emphasis added].
So who's behind ACC? ACC's board of directors is composed of representatives from right-of-center organizations such as the Washington Policy Center and the Property and Environmental Research Center—groups which have received grants from conservative foundations like the Searle Freedom Trust.
But a snapshot of the board from September 14, 2017, reveals five members no longer listed on ACC's website—most notably Rob Sisson, executive director of ConservAmerica (more on that later) and John Seydel III, sustainability director for the City of Atlanta, Georgia. Seydel, a millennial, is a former campaign staffer for two Colorado Democrats, Gov. John Hickenlooper and Sen. Mark Udall. An environmental activist, Seydel has reportedly been tasked by Atlanta to craft "a strategy for how the city will meet its 100 percent renewable energy goal." He's also a supporter of Fossil Free Stanford, a student movement demanding Stanford University "fully divest from fossil years within five years" of 2018.
Until August 5, according to WayBack Machine, the group's website detailed its founding coalition (the page has since been deleted), right-of-center groups which have been criticized for their left-wing positions on climate change: Citizens for Responsible Energy Solutions (CRES), ConservAmerica, R Street Institute, Ohio Environmental Council Action Fund, Conservative Energy Network, Conservatives for Environmental Reform, and the only overtly left-wing member, Citizens' Climate Lobby.
ACC's Founding Coalition
These groups vary in their support for a carbon tax and in their ideological views. In July, for example, the right-leaning R Street—which has received grants from the environmentalist Energy Foundation and George Soros' Foundation to Promote Open Society as well as the conservative Searle Freedom Trust—commended Rep. Curbelo's carbon tax as "a good starting point for discussion" on conservative global warming solutions.
R Street—which was created in 2012 after its founders split off from the conservative Heartland Institute—is arguably more liberal than libertarian on environmental issues, a view reinforced by the presence of Bob Inglis on the organization's board of directors. The Ohio Environmental Council Action Fund, however, doesn't lean right at all—it's the PAC of the Ohio Environmental Council (OEC), a state affiliate of the left-wing League of Conservation Voters. The OEC— a left-of-center group funded by the Joyce Foundation (whose board once included Barack Obama), Energy Foundation, and Rockefeller Family Fund—called for the resignation of former EPA administrator Scott Pruitt for "his recent attack on science [and] dozens of policies that sell out our clean air and water."
Even the liberal Center for Responsive Politics (publisher of OpenSecrets) lists the OEC Action Fund as "liberal." In 2016, the PAC spent nearly $77,000 against Republican presidential nominee Donald Trump and Ohio Sen. Rob Portman (R), and gifted $252,000 to the Big Labor-aligned PAC For Our Future. Since 2016, it has consistently endorsed Democrats and progressives running for Ohio governor, U.S. Senate, and various state and municipal offices.
Citizens for Responsible Energy Solutions (CRES) is more of a mixed bag. It was created in 2013 with $1 million in startup funding from the Advocacy Fund (the action arm of the Tides Foundation, a major left-wing funder) and the Trust for Energy Innovation, an obscure 501(c)(4) advocacy organization that has funneled millions of dollars to the League of Conservation Voters, Sierra Club, Natural Resources Defense Council Action Fund, and Center for American Progress.
CRES is closely connected with ACC. Its managing director, Heather Reams, is an ACC board member, and ACC co-founder and former staffer Matthew Mailloux worked as a CRES policy researcher from January to May 2018, according to LinkedIn.
CRES was founded by James Dozier, a Republican political activist with a history of working  with the left-wing Gay & Lesbian Victory Fund PAC and now-defunct Gill Action Fund, groups which advocate for "increasing the number of openly LGBTQ officials at all levels of government" and were closely connected with the national same-sex marriage campaign, Freedom to Marry. Victory Fund-endorsed candidates must "demonstrate support of federal, state or local efforts to advance LGBTQ civil rights via the legislative or regulatory process," and support "efforts to safeguard privacy and reproductive freedom"—in other words, abortion on-demand.
While CRES' PAC donated just under $12,000 to a number of liberal or moderate House and Senate Republicans in 2014 (such as Sens. Susan Collins of Maine and John McCain of Arizona), it also urged President Trump to keep the U.S. in the Paris Climate Accord in a May 2017 television advertisement on MSNBC.
CRES produces studies lauding "jobs in wind and solar" and the "clean vehicle industry" and polls claiming that "57% of conservatives would support an elected official or candidate that supports clean energy." But the WayBack Machine reveals CRES's efforts to avoid appearing too liberal. As late as May 2017 CRES' website displayed favorable quotations from various left-wing environmentalists, including Clinton administration assistant secretary of energy Dan Reicher, CleanCapital CEO Thomas Byrne (a climate change investment firm), and Microsoft Director of Renewable Energy Kenneth Davies.
ConservAmerica
Another right-leaning, pro-carbon tax group is ConservAmerica, formerly Republicans for Environmental Protection. While it stated in 2017 that it "does not support a massive new carbon tax," ConservAmerica president Rob Sisson has himself called for a carbon tax and dividend:
Let's not tax things we want more of, like income. Do a carbon tax and then you send the money back to taxpayers. Every month they get a check. The taxpayers can use that to offset their other taxes or they can use it to purchase things.
ConservAmerica, to its credit, differs from Big Green in that it supports nuclear energy and natural gas, opposes the Paris Climate Accords, and critiques "the extreme Left." But, in Sisson's own words, the organization has accepted the premises of the environmental Left's position that "climate change, greatly influenced by mankind, is a serious threat to our environment and our way of life."
Sisson, a Roman Catholic, has framed global warming as a "pro-life" Christian issue, citing Pope Francis' position on climate change. "So many people struggle with the inconsistency of a movement that calls itself pro-life," Sisson told Catholic.org in a 2013 interview, "but does not care about the 600,000 babies born in the U.S. each year with unsafe levels of mercury in their systems, or the human suffering in other parts of the world caused by a changing climate."
These kinds of views have driven much of ConservAmerica's support for positions generally held by the Left, like skepticism towards hydraulic fracturing (or "fracking"). In a 2012 interview with the New York Times, Sisson said, "We'd like to see fracking come under the Clean Water Act requirements . . . We're not ready to go back to the fallback that states should be alone in regulating this"—a position co-interviewee David Yarnold, president of the left-wing National Audubon Society, agreed was a "sound and responsible approach."
For all its words about returning the Republican Party to its historic conservationist roots, ConservAmerica has adopted a number of liberal positions. In May 2018, it railed against the Trump administration's former Environmental Protection Agency administrator, Scott Pruitt, for not being "green" enough: "The time is long overdue to give Pruitt the boot, and EPA a reboot." ConservAmerica opposed the construction of the Dakota Access pipeline in 2016 (in language echoing far-left "intersectionality"), accusing the U.S. Army Corps of Engineers of choosing to "ignore the concerns raised" by the local Standing Rock Sioux Tribe:
If the United States government allows the construction of the Dakota Access Pipeline . . . the countless speeches about environmental justice, social justice, and respect for American Indians will be drowned out by the sound of over a half-million barrels of oil daily flowing under a river ten miles from the Standing Rock Sioux Tribe's water intakes.
ConservAmerica also opposed transferring ownership of federal land to states. In November 2017, the group harangued President Trump's executive order greatly reducing the size of two Utah national monuments as "unconstitutional." What the group's website failed to mention was that the parks were created in 2016 by White House proclamation . . . in the final weeks of Barack Obama's presidency.
WayBack Machine reveals a page on the group's website from April 2017 (which has since been deleted) in which ConservAmerica declares: "Our public lands make America great. . . . It is incumbent upon us—it is our patriotic duty—to conserve our public lands for our children and generations to come." Never mind that in six western states—Utah, Nevada, California, Idaho, Alaska, and Oregon—the federal government owns between 45.8 (California) and 84.9 percent (Nevada) of their total area.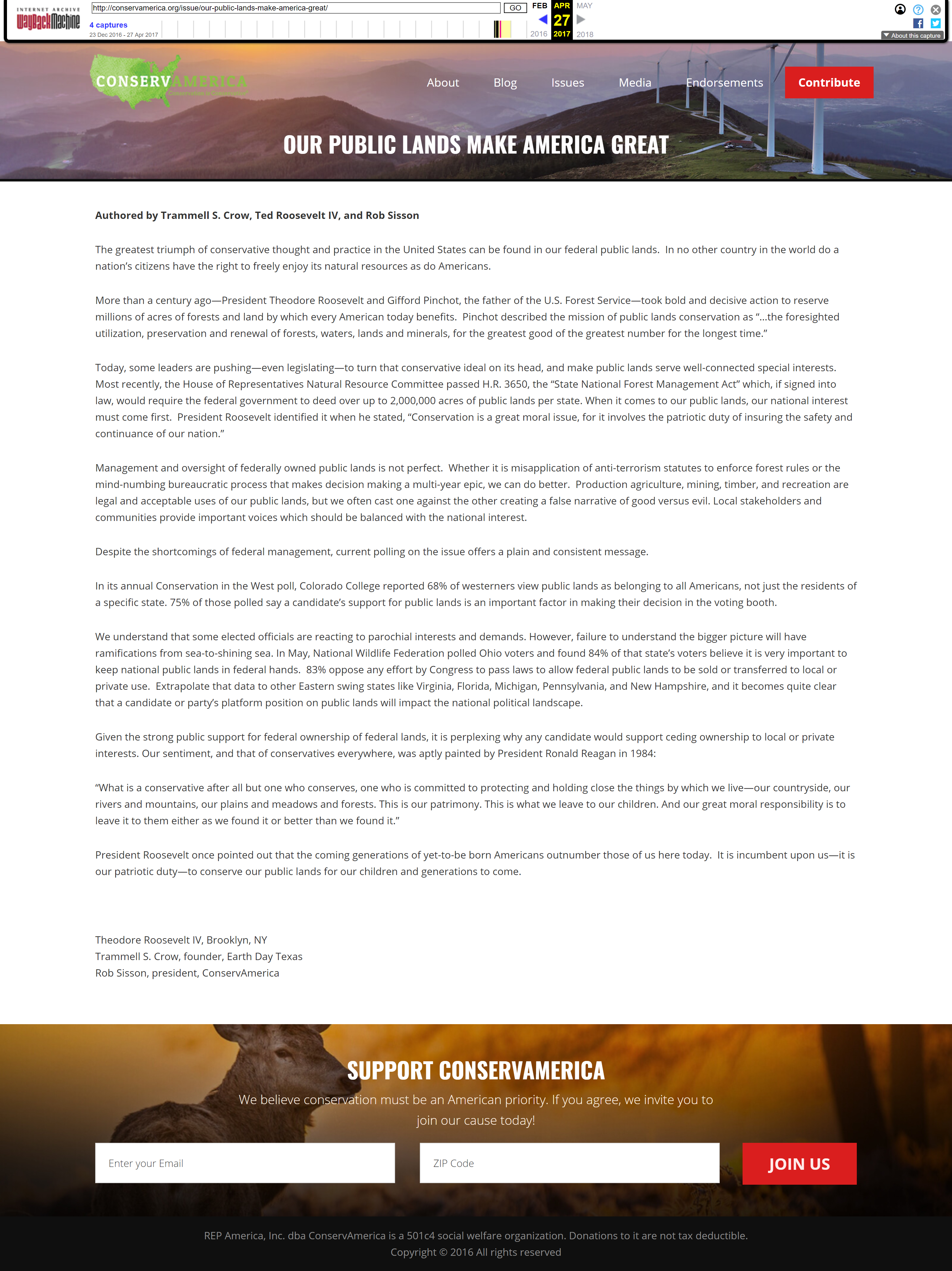 Bogus Bipartisanship
An obvious question remains: what does the Left think about the eco-right? While R Street Institute and the Climate Leadership Council have hailed the Curbelo carbon tax bill as a "bipartisan" achievement and a major step in the right direction for the GOP, some liberals aren't buying it.
"Don't let this Republican's carbon tax fool you," one guest columnist from the New Venture Fund (a liberal funder) wrote in the Huffington Post. "Sure, this bill is progress from outright denial of reality," but it would also lower federal tax revenues and wouldn't push electric vehicles on consumers. Besides, she wrote, it's not as good as the real "long-term decarbonization plans" in France, Ireland, the Netherlands, and Costa Rica.
Vox's reaction when confronted with the Republican carbon tax PAC Americans for Carbon Dividends: "Wait . . . what?"
"This policy is not bipartisan in any meaningful sense," the group argued. "It is first and foremost a bid by oil and gas and nuclear [companies] to secure the gentlest and most predictable energy transition."
The NRDC was mildly more supportive, calling it a "breakthrough" plan, but stopped short of endorsing the Curbelo bill for not being aggressive enough in limiting carbon emissions. According to NRDC president (and former Obama administration official) Rhea Suh, a carbon tax just "can't do the job alone."
The left-wing Media Matters for America dismissed the bill entirely as politically unfeasible: "Curbelo's bill won't be passed into law by this Congress, and the Baker-Shultz Carbon Dividends Plan and other national carbon-pricing proposals won't get much if any traction this year either."
Conclusion
Where does that leave the future of a Republican carbon tax? Most conservatives are too likely to sniff out a global warming ruse to back it anytime soon, while many liberals won't find it extreme enough for their tastes. That leaves the dream of a Republican-backed carbon tax an orphan, at least for the time being. As Thomas Pyle, head of President Trump's energy transition team, put it: "There is no appetite for a carbon tax."
And that's surely for the best. American conservatives have always supported opportunity and independence. That has meant encouraging the development of cheap, abundant energy.