Democratic activist and CNN political commentator Van Jones sharply criticized Hillary Clinton at the People's Summit in Chicago this past weekend, claiming those in the Clinton campaign did not spend its money on workers or minorities, but rather spent it on themselves.
"Let's be honest," he told the Left-leaning crowd, which numbered in the thousands, "They took a billion dollars, a billion dollars, a billion dollars, and set it on fire, and called it a campaign!" Jones went on to accuse the Clinton campaign of blowing the money on high-paid consultants and pollsters who proved wrong, faulting the campaign's reliance on "data dummies" who spent their time behind computers and failed to organize voters in key states like Michigan.
The failure of the Clinton campaign to turn contributions into votes raises greater concerns about the Clinton empire's dubious finances.
Since the Clinton Foundation was formed in 2001 – shortly after Bill and Hillary left the White House – it has come under intense scrutiny for lack of transparency and accusations of pay-for-play tactics involving foreign donors. The foundation's flagship project, the Clinton Global Initiative (CGI), ostensibly served as a platform for members to address "significant global challenges." In reality, CGI acted as a front for moving foreign cash to Bill and Hillary's pockets in exchange for access to the politically-connected couple.
After Hillary Clinton lost the 2016 presidential election and her expected political relevance in Washington, the foundation was forced to shutter CGI when multiple foreign governments withdrew or significantly reduced their annual donations.
There is no doubt the Clintons are excellent fundraisers, but the accusations of Jones and other DNC operatives raise obvious questions: how far did the same graft and mismanagement of the Hillary campaign permeate the Clinton Foundation? The Foundation's most recent tax returns certainly seem to indicate as much.
In 2015, only 3.8 percent of its expenses were spent on philanthropy, while the bulk of its $98,877,350 in total output went toward salaries, operating costs, and travel expenses. Even though the foundation saw a 37 percent decrease in grants and donations from the previous year – that's more than $63 million – it increased spending by nearly $8 million in 2015. Despite the increased spending, charitable grants dropped by more than $1.3 million from the year before, continuing the foundation's trend of reducing its charitable contribution amount which dropped by more than $3.5 million from 2013 to 2014.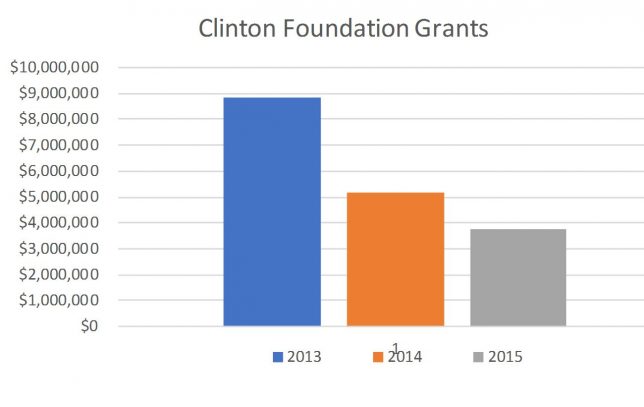 Where did all that money go? For one, the Clinton Foundation employed 42 more people in 2015 than in 2014, despite revenue losses. That adds up to $57 million in operations, and labor costs totaling $38 million for 528 people – all to donate just $3.75 million in charity.
Clinton Foundation defenders point out that the group does not operate the same as normal charities. It once tweeted that more than 88 percent of its expenditures went to "life-changing work." Certainly Clinton Foundation salaries can be 'life-changing' – on average, employees were paid more than $72,000 each year, far above the national personal income average of just under $35,000. And considering the meager sums they've given to real charitable work, one wonders exactly whose lives the Clinton Foundation is trying to change.
This is not to say that many of these employees have not performed meaningful work through consulting and entrepreneurial training. But it does not take an economist to tell you that a nonprofit spending nearly $7 million on travel expenses and only $3.75 million on actual charity – all while seeing a historic decline in donor support – doesn't pass the smell test.
The bulk of the Clinton Foundation's program funds go to what CRC Senior Fellow Martin Morse Wooster terms "fancy networking sessions," where members supposedly meet to discuss plans to alleviate poverty and human suffering, but in reality are little more than feel-good sessions where employees can wine and dine and gab about how charitable they are. Even if we assume that every cent the organization put toward these conferences and conventions was spent effectively, that still only amounts to 15.7 percent of all expenses when combined with charitable contributions.
It would be far too generous to attribute any major success to the Clinton Foundation's financial management after witnessing the financial squandering of Clinton's presidential campaign, where the results of massive overhead were objectively measured through electoral defeat.
To many on the political Left and the Right, the Clintons have benefitted enormously by appearing to champion the plight of the poor and minorities. When ideologues like Van Jones demand the Clintons "give the money back to the people" and "quit getting rich off people's struggles," you know they've finally gone too far.