Deception & Misdirection The New New Organizing Institute Meet the political activists who birthed the CTCL and the Left's strategy to swamp America in socialism
---
The latest in an occasional series on the Center for Tech and Civic Life's the 2020 election intervention. See our previous reports on Pennsylvania and Georgia.
The New Organizing Institute (NOI) had one job: Elect Democrats. It did that job very well. It elected Democrats by exploiting the newest techniques to accomplish the oldest tasks:
Register voters
Get them to the polls
Win
Then its team had a fight and shut its doors, but three of its expert technicians immediately resumed operations with another organization to accomplish the same mission of electing Democrats using cutting-edge techniques. That new New Organizing Institute had a similarly bland name, the Center for Technology and Civic Life. For even more camouflage, CTCL was set up as a 501(c)(3) nonprofit rather than as a 501(c)(4) nonprofit, because a 501(c)(4) is an obvious political weapon. A 501(c)(3) is less obvious because it is legally prohibited from intervening for a political party.
CTCL's leaders still have the muscle memory of a 501(c)(4) advocacy group. In comparing the old NOI with CTCL, it's almost impossible to detect a difference between what the two organizations did/do or between their objectives. In fact, the only clear difference is that NOI no longer exists.
In fact, here's a quiz. This verbiage is taken from training courses for activists and elections officials offered on both websites. Try to guess which is the old (c)(4) political nonprofit, and which is the new (c)(3) "nonpartisan" nonprofit:
Learn how to reach "displaced" and "hard-to-reach voters" with "language barriers."
"Hispanics are the future of progressive growth."
"In jail or have a conviction? The only time you cannot register and vote is when you are serving a sentence in jail or prison."
"Fight voter suppression in your campaign by talking with voters about IDs."
"Identify different forms of misinformation, malinformation, and disinformation and how to respond."
"Build momentum for real civic participation, and an infrastructure that creates power for the long term."
Hire a "disinformation expert to report and correct disinformation, particularly from foreign actors."
"Protect voters rights across the country" from the "voter suppression tactics threatening our most vulnerable voters."
Answers: First, third, fifth, and sixth statements are from CTCL. The rest are from NOI.
Born in the Swamp
NOI was formed in 2004 by two veteran left-wing activists: Judith Freeman, an AFL-CIO strategist, and Zack Exley, founding community organizing director for MoveOn.org in its 2003 anti–Iraq War campaign.
Freeman worked for M&R Strategic Services, a major consultancy founded by Donald Ross. (Ross is also a founder of the Public Interest Research Group (PIRG) system and the founder of NEO Philanthropy, still one of the Left's major "dark money" pass-through funders.) Freeman also worked on John Kerry's 2004 presidential campaign before becoming the AFL-CIO's senior political strategist, later working as digital field director of Barack Obama's 2008 presidential campaign and running NOI until 2013. She's now a consultant.
Exley is an even better example of the activist Left's tentacular nature. Exley began as a labor union organizer who organized agitation protests for the Ruckus Society, described as the "violent version of Forrest Gump" for its "direct action" campaigns that often resulted in injury and property damage.
During the 2000 presidential election recount, Exley ran the website Countercoup.org, which organized nationwide protests against Electoral College winner George W. Bush. He later bragged that it was a "radical breakthrough for grassroots organizing." GWBush.com, another Exley website created before the election, still mocks Bush as a cocaine-addled alcoholic.
During his time leading MoveOn.org, Exley was accused of "rigging" the group's online Democratic primary in favor of ultraliberal Vermont Gov. Howard Dean to guarantee him the MoveOn endorsement in the 2004 presidential race. Exley was so infatuated with Dean that he took a two-week leave of absence from MoveOn to offer digital organizing services to Dean's campaign.
He founded and led NOI from 2004 to 2010, when he left to become chief community officer (later chief revenue officer) for the Wikimedia Foundation, which runs Wikipedia. In 2009, he received a fellowship grant from George Soros's Open Society Foundations, the mark of any important activist.
Exley was an adviser to socialist Sen. Bernie Sanders's (I-VT) failed 2016 Democratic presidential campaign. From its ashes he founded multiple far-left groups with ex-Sanders campaign staffers: Middle Seat, a digital marketing firm catering to far-left politicians and causes; Justice Democrats, a PAC that helped elect socialist Rep. Alexandria Ocasio-Cortez (D-NY) in 2018; and Brand New Congress, a PAC that offers campaign and strategy services to radical Democrats running for office. And in 2018, he co-founded New Consensus, which pushes the far-left Green New Deal designed to transform the U.S. into a top-down socialist state.
Exley wrote a 2016 book examining Sanders's failed campaign entitled Rules for Revolutionaries: How Big Organizing Can Change Everything, co-authored with NOI board member Becky Bond, who previously worked as president of the left-wing CREDO super PAC. The book was hailed by leftists as a "recipe for Big Organizing" and a "warning to those living in open and privileged societies and working in well-funded top-down advocacy institutions" that a socialist wave would soon overtake the Democratic Party.
Rules for Revolutionaries parallels the NOI and CTCL approach to politics: Use a small group of dedicated, ideologically motivated staffers to field a digital get-out-the-vote drive disguised as a groundswell of support for socialism.
NOI launched the model, its leaders refined it during Sanders's 2016 campaign, and CTCL—the new New Organizing Institute—unleashed it on the 2020 election to powerful effect.
"Hogwarts for Democrats" or "the Left's New Death Star"
NOI focused on training new activists for other organizations to push policy and elect Democrats—2,778 organizers in nine states and the District of Columbia in 2014 alone— covering election administration, online and in-person get-out-the-vote strategy, voter data management, early voting laws, state-by-state election laws, "fighting voter suppression," and campaign management.
NOI ran "unconferences"—what it described as "the organizer's version of your typical conference"—with training on social media strategy, graphic design for campaigns, voter data analysis, and political advertising for campaigns. Keynote attendees included Democratic Party luminaries such as Sens. Elizabeth Warren (MA), Chris Murphy (CT), and Kirsten Gillibrand (NY).
Information on NOI's trainees is difficult to find, but one former fellow, Joel Silberman, illustrates how well-connected the group was. Silberman (who died in 2018) co-founded Democracy Partners, one of the professional Left's top consultancies and a key component to Hillary Clinton 2016 presidential campaign. Silberman's clients linked him to virtually every liberal influencer—pollster Nate Silver, Daily Kos founder and blogger Markos Moulitsas, ex-Obama administration official and CNN pundit Van Jones, People for the American Way, the Leadership Conference on Civil and Human Rights, and the Progressive Change Campaign Committee.
Under IRS rules, NOI was able to use its 501(c)(4) nonprofit status to teach other groups how to intervene in elections. This is politics by any other name, not charity. Imagine if NOI trained conservatives, not leftists: The "mainstream" media would have been in conniptions over right-wing nonprofits tilting elections. Instead, that same media gushed over NOI's efforts.
In 2014—less than a year before NOI collapsed—the Washington Post extolled the group as "the Democratic Party's Hogwarts for digital wizardry" and "the Left's think tank for campaign know-how." It called NOI's "wargames" on creating viral online ads for Obama administration staffers a "liberal's rendition" of a Defense Against the Dark Arts course (a Harry Potter reference comparing Republicans to the series' villains).
That same year CNN quoted a supposedly "fearful" Republican blogger who called NOI "the Left's new Death Star," bragging that "even as Republicans made impressive strides in digital and data-driven campaigning in 2014, Democrats retain a culture of innovation and an army of campaign geeks that far outpaces their GOP foes."
Some of NOI's organizers are now in influential positions, too. Ex-NOI staffer Jose Morales later worked for the National Democratic Redistricting Committee, Eric Holder's gerrymandering litigation group, and activist Stacey Abrams' Fair Fight Action, whose voter outreach efforts were key to the Democrats' win in Georgia's 2020 presidential election and 2021 Senate special election. Morales later joined Biden's transition team for the Department of Justice.
Activism Inc.
NOI operated as a pair of nonprofits: A 501(c)(4), which conducted much of the advocacy training, and a 501(c)(3) called the NOI Education Fund, which brought in most of the pair's funds (almost $32 million between 2006 and 2015, according to available Form 990 filings).
Major funding for NOI came from anonymous donors using Vanguard Charitable Endowment Program and Fidelity Charitable Gift Fund (donor-advised fund providers that redirect donors' funds), the Ford Foundation, George Soros's Open Society Foundations, and the Tides Foundation. Other key donors were the Arca Foundation, associated with the R.J. Reynolds family tobacco foundation; former Google CEO Eric Schmidt's family foundation; the NoVo Foundation, funded by Peter Buffett (son of Warren); the Joyce Foundation, a Chicago-based philanthropy whose board once included Barack Obama; and Unbound Philanthropy, a donor affinity group that mainly pushes for liberal immigration policies.
From 2013 until it closed in 2015, NOI was run by Ethan Roeder, the data director for Obama's 2008 presidential campaign Obama For America, which was later reorganized as the activist group Organizing for Action. Roeder now directs campaigns for Forward Majority Action, a PAC that spent $21 million trying to flip state legislatures to Democrats in 2020.
NOI's board in its final year indicates its place in the activist Left. Besides Judith Freeman and Roeder, NOI's board included:
The NOI Education Fund's board also included:
Robert "Biko" Baker, an associate lecturer on African and African Diaspora Studies at the University of Wisconsin Milwaukee and far-left activist. He is involved in "data-driven voter turnout campaigns that dramatically increase the voter participation of young urban citizens."
Becky Bond, co-founder of the far-left Real Justice PAC, which helps elect Democratic prosecutors. She also was an adviser to "Beto" O'Rourke's 2018 Texas Senate campaign and socialist Sen. Bernie Sanders' (D-VT) 2016 presidential campaign. She is a former president of the left-wing CREDO super PAC and co-author with Zack Exley of Rules for Revolutionaries.
Catering to the Radical Left
NOI's focus was always on the far Left, not the Democratic Party establishment. For example, the winner of its 2015 Organizer of the Year award was Charlene Carruthers—a self-described "Black, queer feminist community organizer and writer" in the "racial justice, feminist and youth leadership development movement." She was part of a delegation of far-left activists who visited Israel in 2015 "to build solidarity between Black and Palestinian liberation movements."
Yet the group was a key part of the election infrastructure established after the Democrats' defeat in the 2004 presidential election, which led to the creation of the Democracy Alliance (DA). DA is a shadowy collective of major left-wing donors who meet regularly to determine the nonprofit Left's strategy in coming elections. DA does not spend money; instead, members have a portfolio of "recommended" activist groups, think tanks, get-out-the-vote organizations, and litigation nonprofits to which DA members must make sizable contributions. The group's mission is clear: Ensure that Democrats win the presidency and permanent majorities in Congress and state legislatures, then change the law so they never lose them again.
NOI was one of DA's recommended groups. In 2015, then-DA director Gara LaMarche called NOI's implosion a "wake-up call" that had "a tiny, distracted, founder-led board." He noted that the Democracy Alliance "identified this as a problem for NOI in the past, and they said they would take steps, but it never happened." LaMarche reportedly threatened to "impose capital punishment" by dropping NOI from its portfolio of recommended groups, effectively removing it from the collective's powerful pool of mega-funders.
NOI was also part of the Funders Committee for Civic Participation (FCCP), which like DA directs members' donations to key left-wing progressive infrastructure groups with a particular emphasis on shaping the 2020 Census and 2021 redistricting process to give Democrats an electoral edge for the next decade. Like NOI, FCCP takes advantage of lax IRS rules on 501(c)(3) voter registration activities to showcase its Integrated Voter Engagement model, which it brags helped transform Colorado from a Republican state into a Democratic stronghold.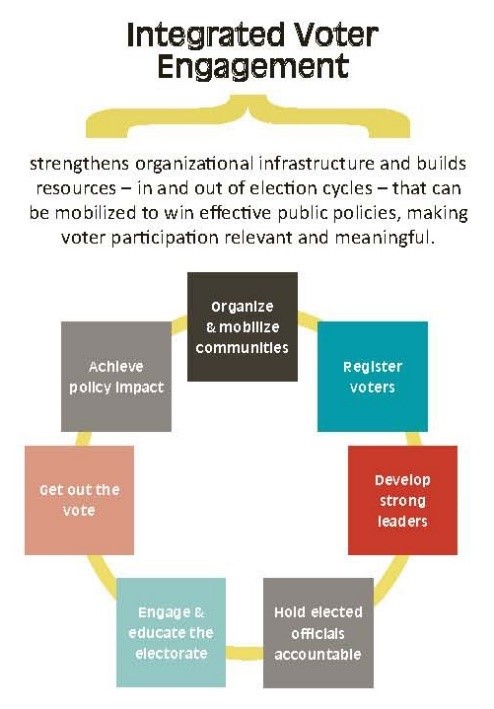 FCCP contracted NOI in 2009 to develop a survey of liberal 501(c)(3) groups' ability to "perform individual contact and mobilization" and ascertain whether they had a "civic engagement, organizing, or advocacy program" in the lead-up to the 2010 midterm elections.
NOI surveyed dozens of major activist groups, including ACORN (soon to go bankrupt after scandals laid the organization low), the League of Conservation Voters, NARAL Pro-Choice America, and the Voter Participation Center (highly active in the 2020 election). Its report recommended that advocacy groups improve coalition access to "volunteer lists, voter registration lists, and membership lists," develop social media and data management infrastructure, and hire more data and media directors to improve get-out-the-vote results—a peculiar activity for tax-exempt public charities.
NOI Dies . . .
In February 2015, roughly 28 staffers presented an ultimatum to the NOI board demanding Ethan Roeder's resignation, alleging financial mismanagement that left the group on the brink of insolvency. Freeman and the board refused their demand. The next day, senior and lower staff walked out of NOI's office in downtown Washington, DC. Eight months later the group dissolved. But much like the infamous ACORN, NOI did not perish so much as redistribute its efforts elsewhere.
NOI's core training program was officially absorbed by RePower (then called Wellstone Action) in October 2015, a major 501(c)(4) training group for leftist organizers. Wellstone Action was named after the ultraliberal Sen. Paul Wellstone (D-MN), who died in a 2002 plane crash. It was founded in 2003 by his sons and former campaign manager Jeff Blodgett. Blodgett was Minnesota state director for Obama's 2008 and 2012 campaigns and an advisory board member to a Democracy Alliance voter mobilization initiative. Wellstone trained thousands of activists, at least 850 of whom have been elected to public office—including longtime Rep. Dave Loebsack (D-IA), Minnesota Attorney General and ex-DNC chair Keith Ellison, and Minnesota Gov. Tim Walz (D).
But NOI's legacy was unofficially gifted to its smaller and, until recently, unknown—progeny: the Center for Technology and Civic Life (CTCL).
. . . And Lives On
Among the senior staffers who quit NOI in 2015 were Whitney May, state liaison for NOI's Voting Information Project and a former election administrator for Durham County, NC; Tiana Epps-Johnson, NOI's deputy data manager and a 2018 Obama Foundation fellow; and NOI research director Donny Bridges.
In 2012, these three founded CTCL in Chicago as a 501(c)(3) to advocate for election "reform" (read: create a permanent edge for Democrats in elections), soon moving to the larger and more established NOI. In 2015 they simply returned to CTCL, bringing with them NOI's aggressive training model to devastating effect in 2020.
CTCL and the 2020 Election Debacle
Like NOI, CTCL has two focuses: "civic data" (its term for election and candidate information) and election training. CTCL's civic data have been disseminated to Facebook and Google as well as left-wing activist groups such as Rock the Vote, the Voting Information Project, and the Women Donors Network. And the data are used to coordinate get-out-the-vote efforts for Democrats. CTCL's training is focused on election officials, teaching them how to build websites and voter messaging strategies for a fee of $5,000.
The latter may sound innocuous, but in 2020 CTCL extended its services to include trainings on "Combatting Election Misinformation" to help election officials be "reliable source[s] of information" against lies supposedly fomented by Russian interference and President Donald Trump. CTCL encouraged officials to report social media posts suspected of spreading "misinformation" and establish close relationships with "fact-checkers," which are invariably run by left-wing groups such as the Poynter Institute, a Soros-funded entity that maintains the website Politifact.
Then in September 2020 Facebook CEO Mark Zuckerberg and his wife, Priscilla Chan, announced they were giving $250 million (later increased to $350 million) to CTCL to help the group normalize the use of mail-in ballots and provide COVID-19 relief to state and county elections officials nationwide.
In an instant CTCL (2018 revenues of $1.4 million, including only $560,000 from grants) went from an anchovy to a whale. Ballooned to almost unimaginable proportions, the group began handing out five-, six-, seven-, and even eight-figure grants to elections departments in key counties across America just in time for the 2020 election.
CRC has traced over $69 million in grants to jurisdictions in Georgia, Pennsylvania, Michigan, Wisconsin, North Carolina, Arizona, and Nevada. The "Zuck bucks" flooded Democratic strongholds including:
$3 million to Maricopa County ($0.67 per person living there), which contains over 60 percent of Arizona's voters;
$2.4 million to Clark County ($1.06 per person), home to Las Vegas and 70 percent of Nevada's voters;
$2.2 million to Delaware County, PA, a Philadelphia suburb ($3.88 per person);
$2.2 million to Milwaukee, WI ($2.28 per person);
$3.5 million Wayne County, MI, centered on Detroit ($2.00 per person); and
$2.1 million to Allegheny County, PA, centered on Pittsburgh ($1.69 per person).
In Georgia alone the figures are stunning. Thanks to Zuckerberg, CTCL blanketed Atlanta and its suburbs with:
$1.7 million to Douglas County ($11.36 per person),
$6 million to Fulton County ($5.64 per person),
$3 million to Clayton County ($10.47 per person),
$5.6 million to Cobb County ($7.37 per person), and
$4.1 million to Gwinnett County ($4.38 per person).
Don't miss CRC's groundbreaking report on how CTCL flooded Georgia with "Zuck Bucks" here.
Those are just the grants CRC's team could find; the true number is almost certainly much higher, perhaps by tens of millions of dollars.
Tax-Exempt Partisans, Not Philanthropists
But the $10 million CTCL grant to Philadelphia, PA, takes the cake—not only for the eye-popping $13.60 paid to Democratic election officials for every voter who cast a ballot in 2021, but because it reveals just how partisan the supposedly nonpartisan CTCL really is.
The grant contract stipulates that Philadelphia use the funds (initially billed at $552,000 plus $370,000 to provide printing and postage for ballots) to scatter "Secure Dropboxes" around the city for voters to drop ballots into. This matters because dropboxes side-step basic voting integrity requirements, allowing anyone—without any ID—to drop any number of ballots into a private collection bin with no official oversight and no accountability after the fact. If a fraudster wanted to flood Philadelphia with phony ballots, CTCL's "Zuck bucks" enabled him to bypass USPS mailboxes.
As the Thomas More Society's Amistad Project, which has sued CTCL for breaking election law, has argued, CTCL effectively "managed the election" in Democratic strongholds in key battleground states, determining the 2020 election for Joe Biden.
CTCL's spending had a net effect similar to political ads—greasing the wheels for the Biden campaign to vastly increase voter turnout in exactly the cities and states it needed to win. Worse, it enabled fraudsters to overwhelm the 2020 election with floods of ballots that would have been tossed in a normal, Coronavirus-free election year.
This leads to the conclusion that a tax-exempt nonprofit interfered in the 2020 elections in ways that Section 501(c)(3) strictly prohibits. Yet CTCL and Zuckerberg are heroes who "saved the election," according to leftist observers.
What would those journalists and Big Tech executives say if a conservative billionaire decided to privatize an election using a 501(c)(3) charity? Cosmopolitan America would utterly melt down as the heathen raged. Instead, when the Left privatizes the election, crickets.
The Left—thanks to the New Organizing Institute and its bastard child, CTCL—has embraced Big Money, and it's here to stay.