[Editor's Note: Some of the images contained in this article may be disturbing to some readers.]
Rep. Rashida Tlaib (D-MI), who made news for being the first Palestinian Muslim woman elected to U.S. Congress, follows an Instagram account that routinely shares blatantly anti-Semitic posts and 9/11 conspiracy theories. The account Tlaib follows shares posts comparing Jews to vermin and Hitler, posts asserting Jews wield an enormous amount of power, and posts claiming Israel "did" 9/11 and supports ISIS.
Tlaib's official verified Instagram account, which follows under 1,100 users, is following an account called "free.palestine.1948," a reference to the establishment of Israel. The Instagram page appears to post multiple times per day. While Tlaib does follow other pages that mention "Palestine" in their names, those pages are private. Tlaib does not appear to follow any obviously pro-Israel pages.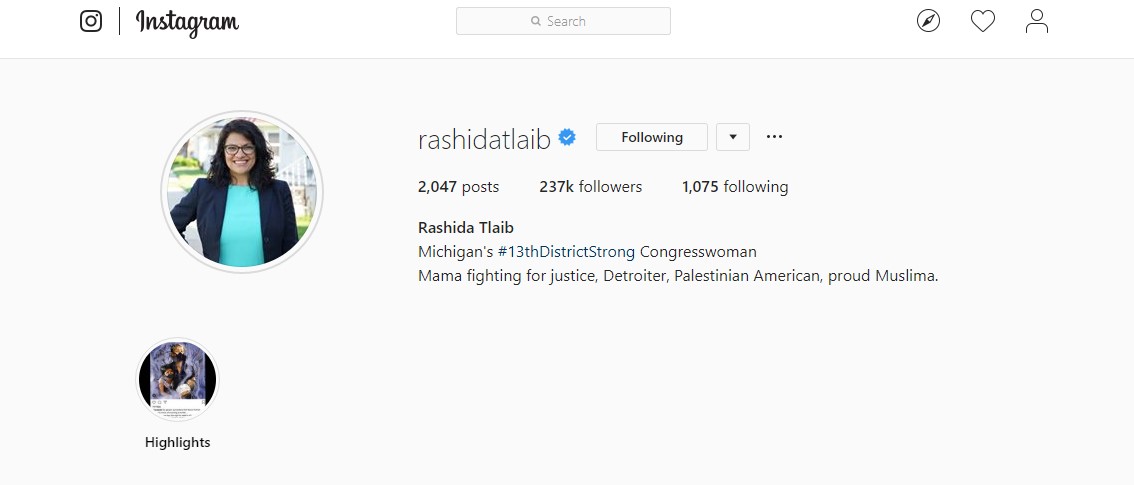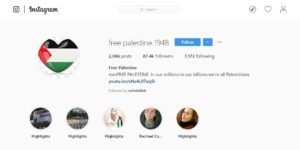 Far from merely being anti-Israel and anti-Zionist, the Instagram account often shares images attacking Jews for being Jewish.
The account shared Nazi-inspired propaganda in July 2014. Similar to how the Nazis compared Jews to rats, the free.palestine.1948 account shared an image of a rat inside of the Israeli flag and called the rat "the real plague." When confronted about the anti-Semitic imagery, the account responded, "Haha make me laugh f*ck you and f*ck israhell […] you wankers will never like the truth."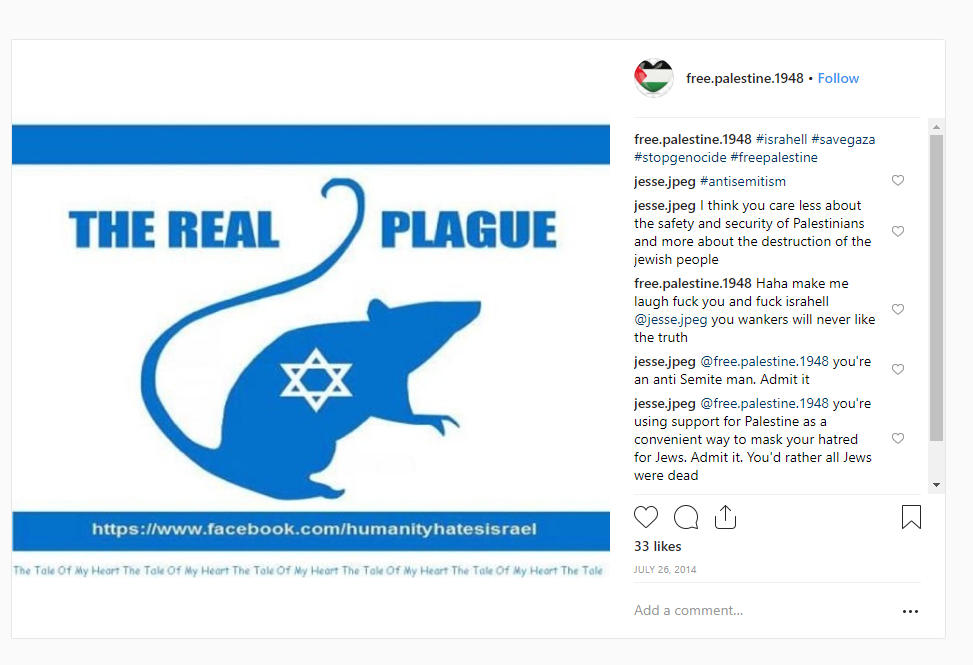 In the same month, the page cited a quote often misattributed to Voltaire about not being able to criticize those in power. The attached image features a Star of David on the arm of the man squashing dissent:
The page shared a meme about the "Rothschild-Israel Occult Connection," taken from the website Real Jew News. The person who manages the Real Jew News writes on its website, "I Wish To Warn How Jewry Is Destroying Christianity Throughout The World."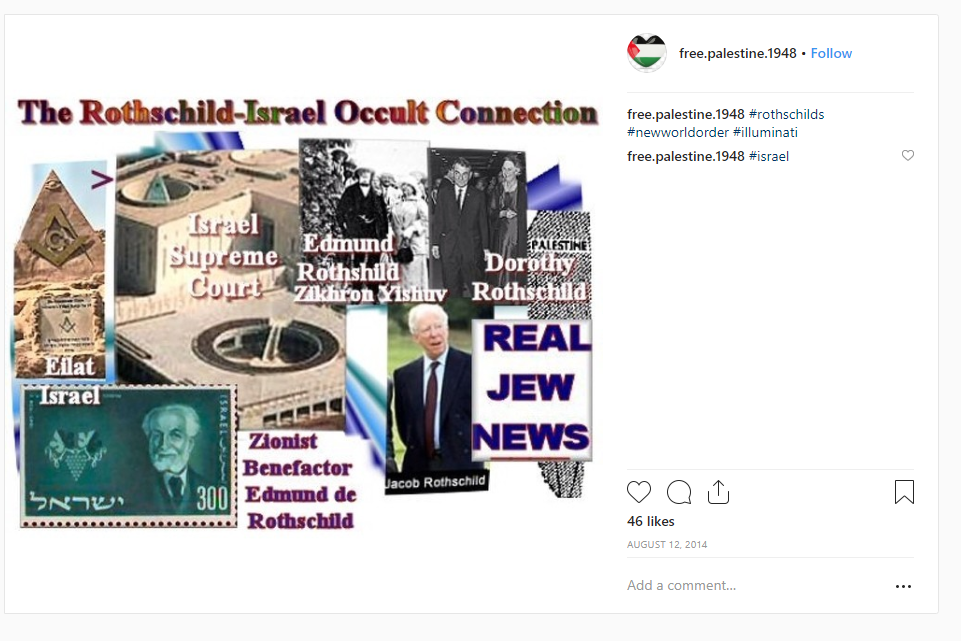 In July 2014, the Instagram page shared another meme asserting Jews control the media: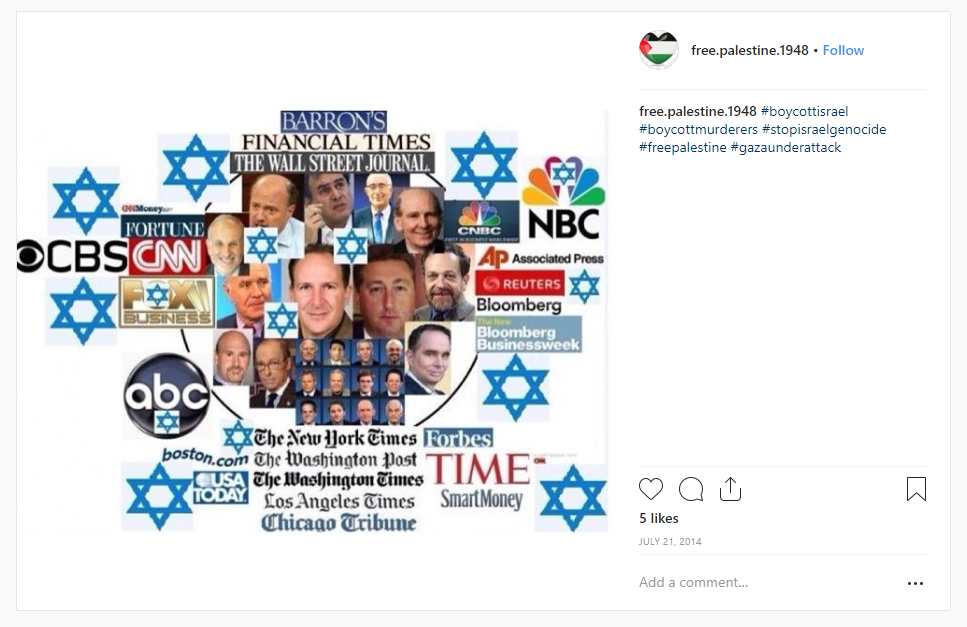 In February 2019 (after Tlaib took office), free.palestine.1948 shared a post accusing Israeli Prime Minister Benjamin Netanyahu of employing a "Jewish agenda of chaos magic" to "obtain… the conquest of the Gentile World." Free.palestine.1948 complained it had previously posted the same image before, but Instagram took it down.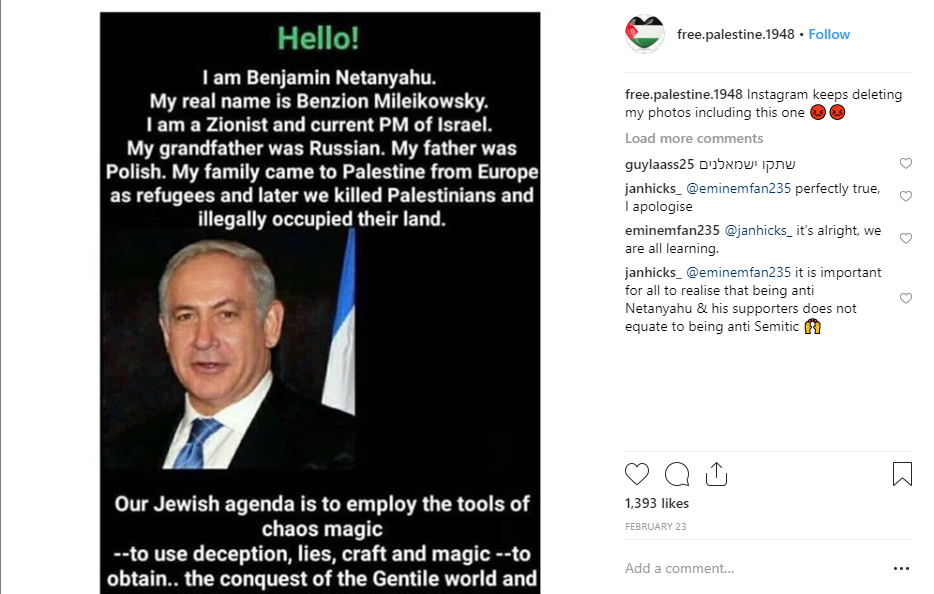 Another post by free.palestine.1948 made reference to blood libel: accusing Netanyahu of sucking the blood out of Palestinian children: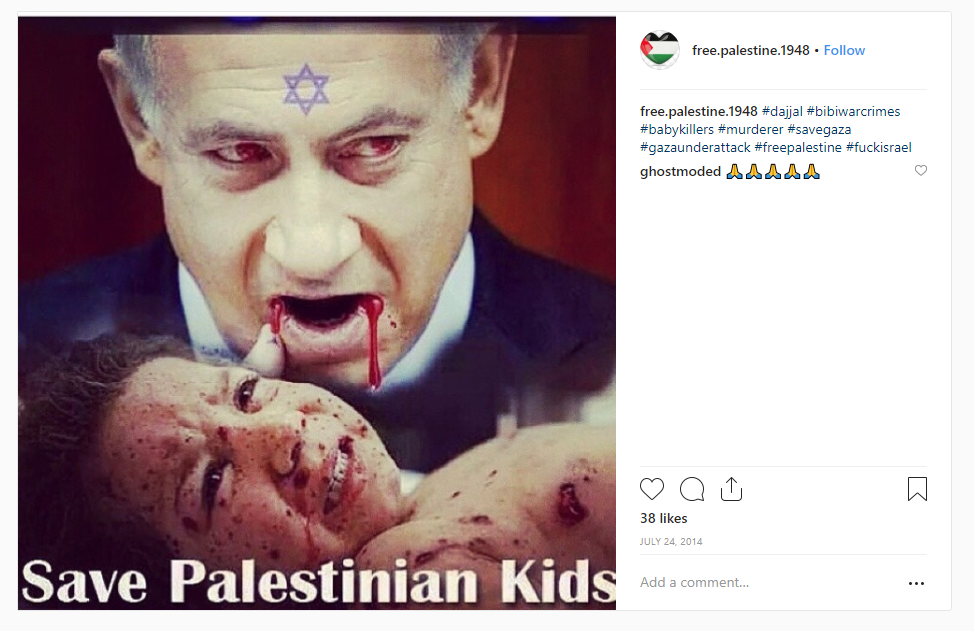 Free.palestine.1948 shared an image that included the text, "Jews entering Palestine[.] [W]hen no country [in] Europe wanted them now they claim it belongs to them." Free.palestine.1948 added its own text, "Notorious people unwanted everywhere but suddenly everyone wants them now even same europe !?"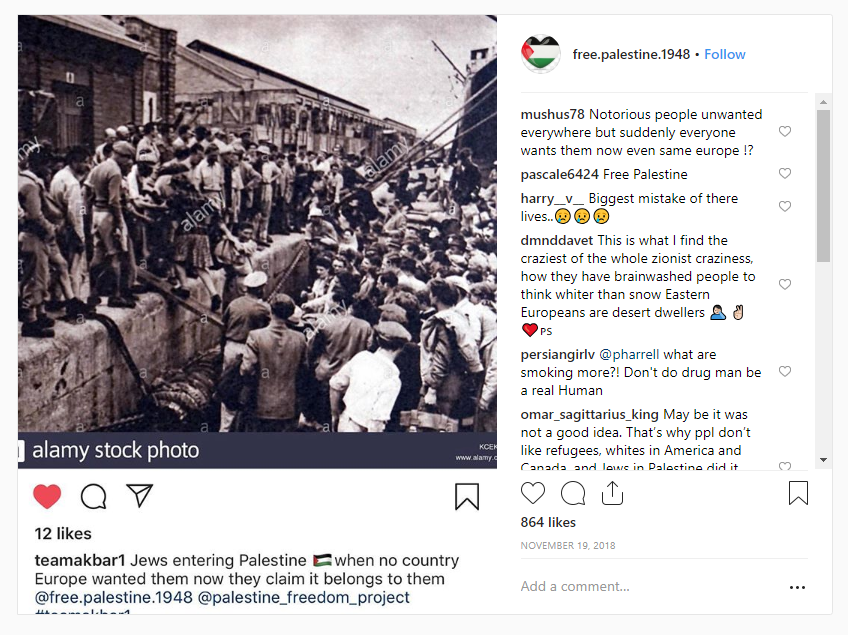 In one post, free.palestine.1948 took offense to the idea of Jews being "God's chosen people" and compared the language to Hitler's ideology: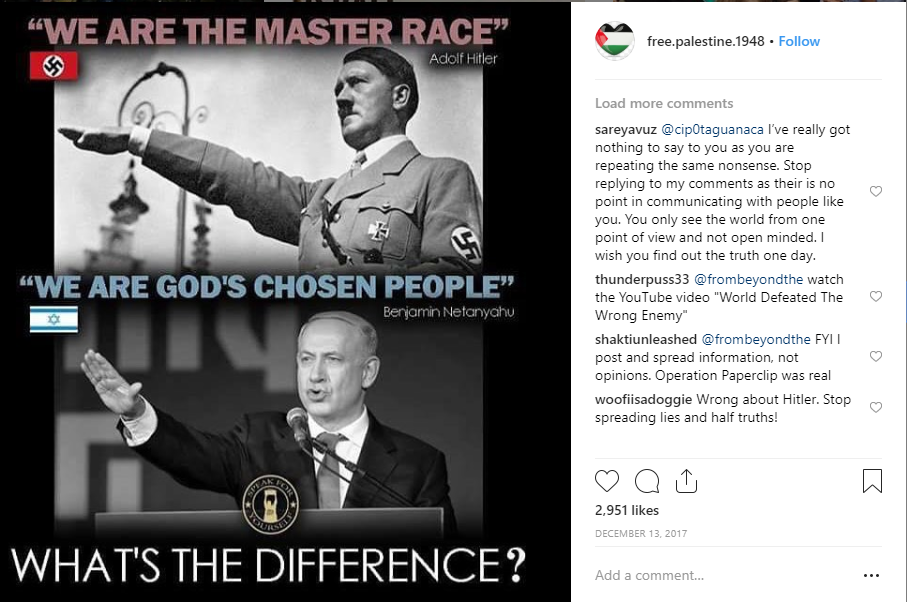 In other posts, free.palestine.1948 has trivialized the Holocaust or compared Jews in Israel to Nazis:
The free.palestine.1948 account propagates various different conspiracy theories surrounding 9/11.
Free.palestine.1948 has asserted Israel is behind 9/11 in various posts over the years: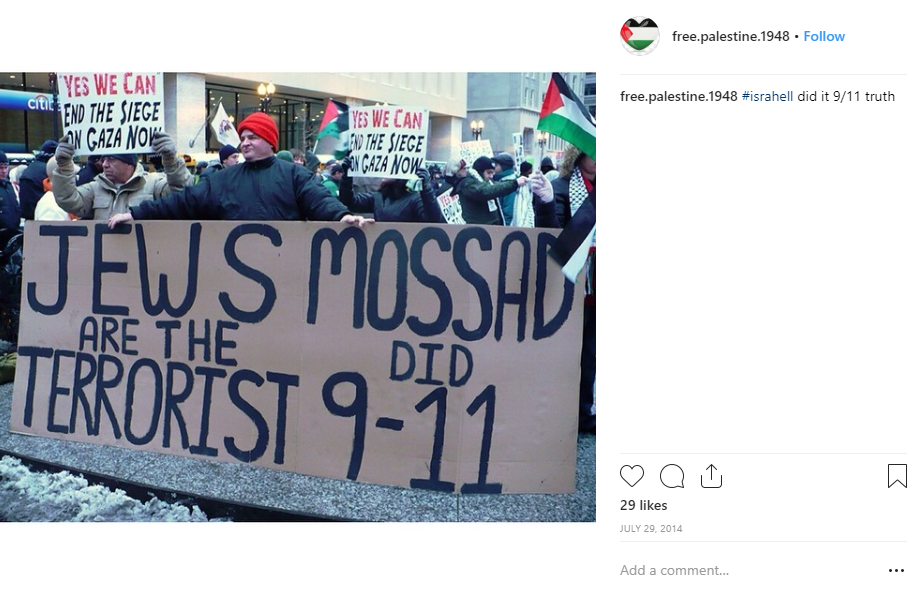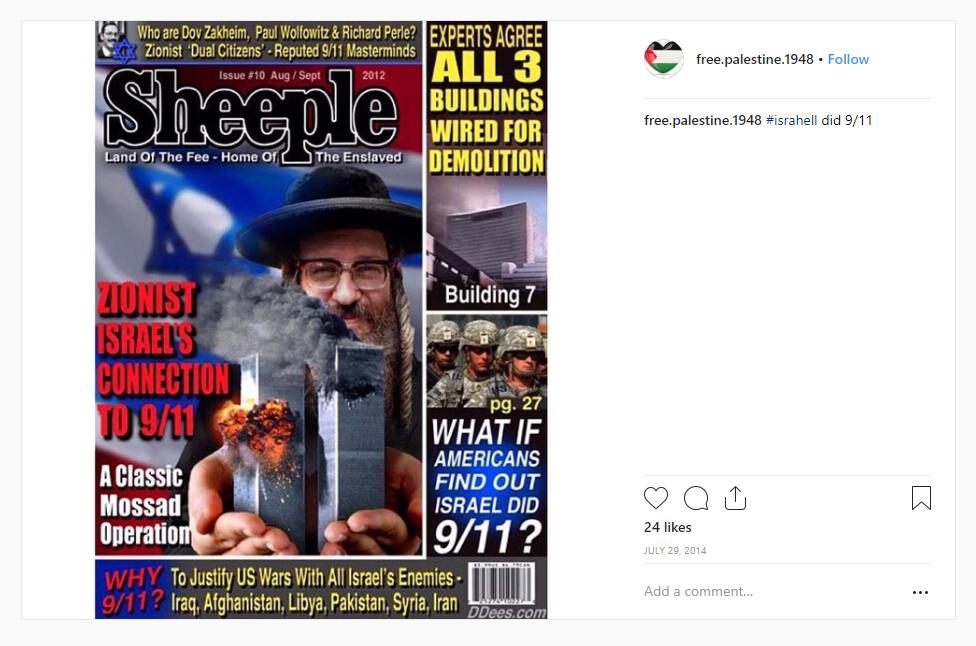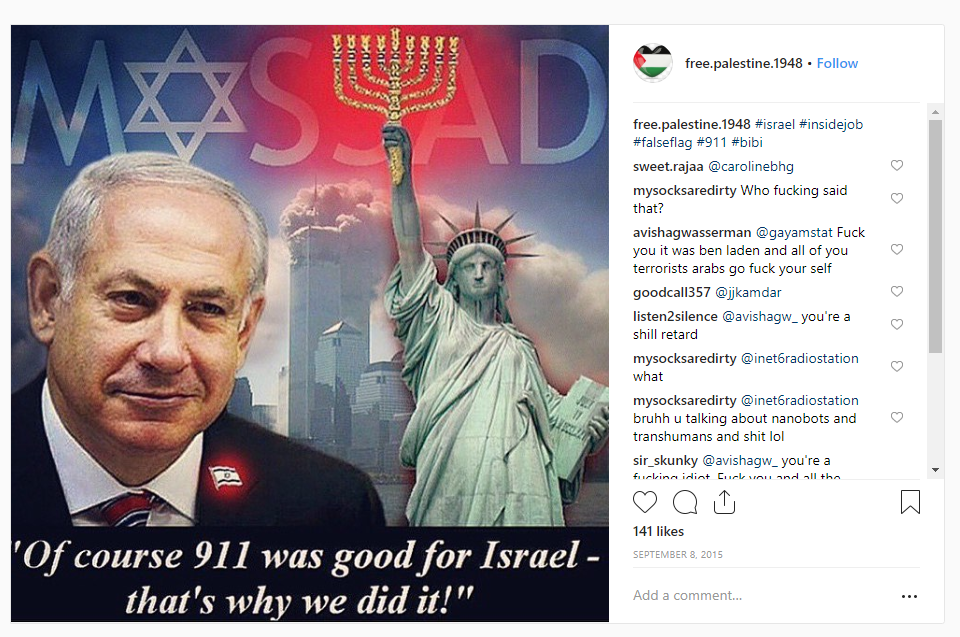 Just days ago, on March 5 2019, the account posted as a caption, "The isrealis [sic] are scared of JC wouldn't surprise me if something happens JC. Jus Like 9/11 they will do it and Muslims will get blame."
Free.palestine.1948's other theories about 9/11 include saying it was an inside job perpetrated by the United States and/or a controlled demolition. In many of its posts, free.palestine.1948 mentions Larry Silverstein, the Jewish property developer who held leasing rights to the World Trade Center:
Along with blaming Israel for 9/11, free.palestine.1948 also blames Israel for ISIS, even relying on a newspaper founded by a person accused of being a white supremacist by the left-wing Southern Poverty Law Center: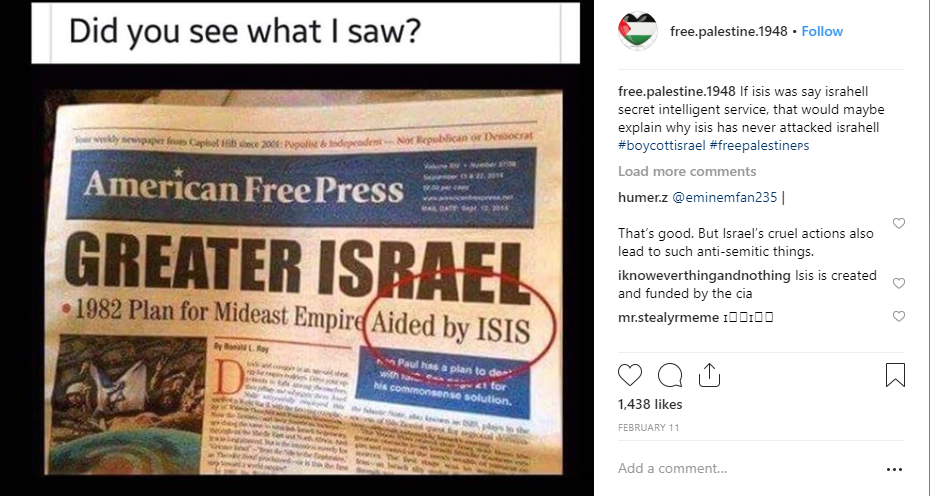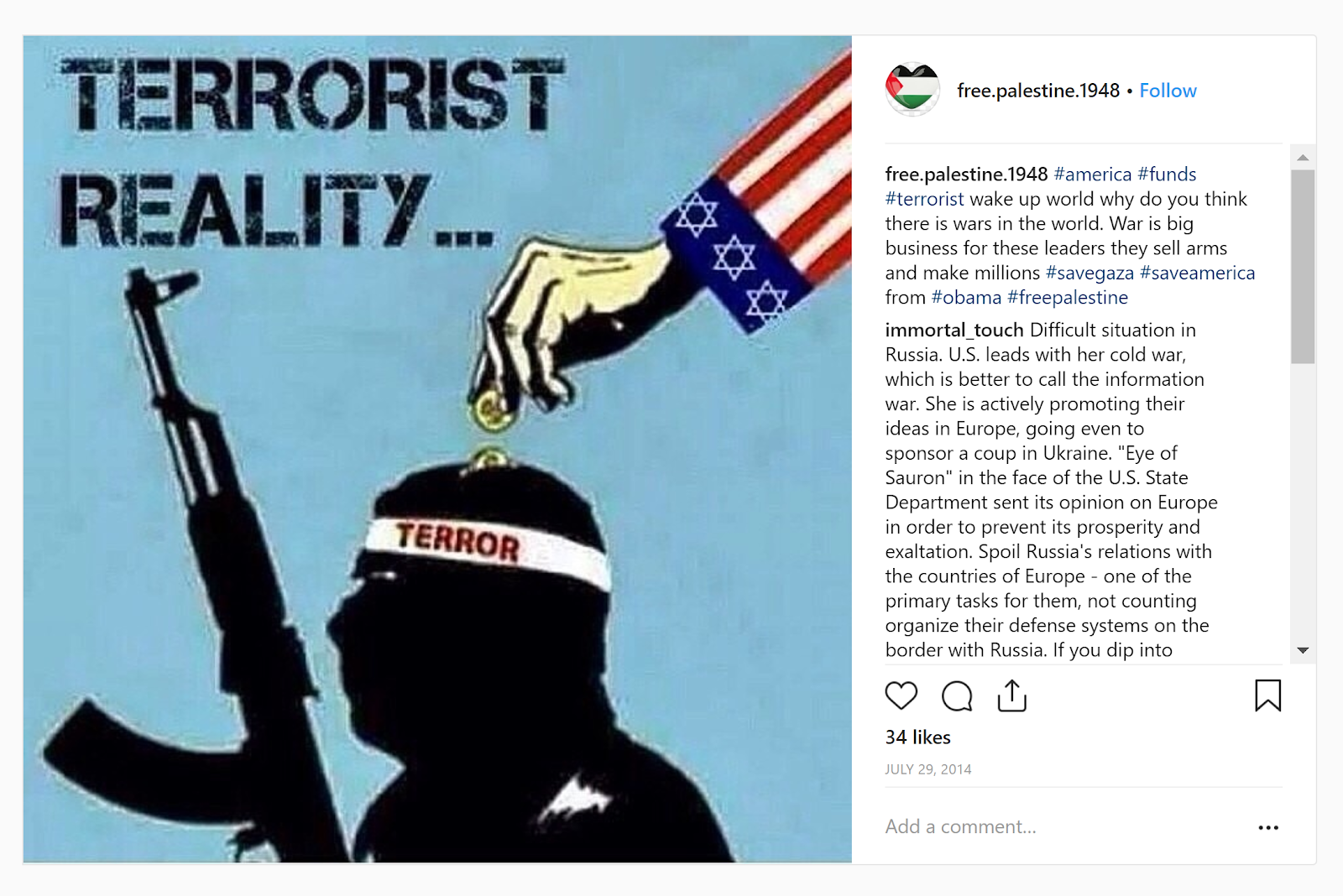 Often on its account, free.palestine.1948 has provided its support to Tlaib.
Although it is unclear when Tlaib began following free.palestine.1948, the discovery of this link comes at a time when Democrats are under fire for anti-Semitic statements.
Tlaib has repeatedly brought up her heritage in order to deflect from claims of anti-Semitism. In response to news that she took a photo with a supporter of Hezbollah at her swearing-in ceremony, Tlaib wrote, "Right-wing media targeting me again rather than focusing on the President's reckless government shutdown. Yes, I am Muslim and Palestinian. Get over it." In response to news that she authored an article hosted on Nation of Islam leader Louis Farrakhan's website, Tlaib similarly mentioned being a "WOC" (woman of color).
Tlaib has also called supporters of Israel people who "forgot what country they represent," while often making reference to her own Palestinian heritage and how she will be "a voice for" Palestinians in Congress.
Ironically, when she responded to Trump's condemnation of anti-Semitism, Tlaib tweeted at President Trump claiming his administration has given "more power" to white supremacists and neo-Nazis. While condemning Trump, Tlaib was simultaneously following an Instagram account that regularly shares anti-Semitic speech.
In another display of irony, Tlaib wrote, "I have to avoid reading the comments on my congressional social media pages. They are disturbing and a reminder that hatred and white supremacy is so alive right now."
This is not the first time Tlaib has come under fire for her social media use. In January, the Daily Caller reported Tlaib was a member of a Facebook group called "Palestinian American Congress." Tlaib was added to the group by one of her fundraisers, Maher Abdel-qader. In the group, Abdel-qadar reportedly shared posts accusing Jews of exaggerating the Holocaust and of not actually being Jewish at all.
Tlaib's office did not immediately respond to the Capital Research Center's request for comment on Tlaib's connection to free.palestine.1948.