Labor Watch Local Right to Work A new strategy for protecting workers is provoking controversy and gaining ground
---
 [PDF here]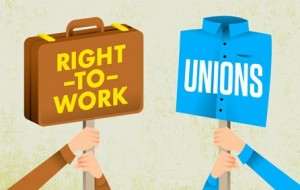 In Kentucky and elsewhere, advocates for the rights of working men and women—including the right not to join a union or pay dues to a union if you don't want to—are trying a new strategy: Laws that secure this right for a city or county, rather than an entire state. The courts have not yet ruled definitively on this strategy, which is not favored by the National Right to Work Committee, one of the most prominent champions of Right to Work efforts. This issue of Labor Watch examines the progress that has been made on the ground, as well as the legal and strategic disputes this approach raises.
"I hope to have God on my side, but I must have Kentucky." – Abraham Lincoln
Bowling Green seems like an unlikely spot for the beginning of a revolution. Yet Bowling Green, seat of Warren County, Kentucky, is where a revolution has been sparked against the forced collection of union dues.
With the recent additions of Michigan and Wisconsin to the roster, 25 states now have Right to Work laws—laws that protect workers from being forced to join a union or pay union dues as a condition of employment.
All those states have laws that apply statewide. The significance of what's happening in Bowling Green, and across Kentucky, and perhaps soon in other states is that Right to Work protections are being extended at the local level, county by county.Kentucky has often held a strategic posi­tion in U.S. politics. The birthplace of both U.S. President Abraham Lincoln and Con­federate President Jefferson Davis, it was neutral at the beginning of the Civil War but quickly came over to the Union side. (The Confederacy, meanwhile, recognized a provisional government and counted Kentucky as a Confederate state.) As of the 1880 Census, the population center of the United States was in Kentucky.
Through most of the 20th Century, the state's U.S. Senate seats flipped between the parties, while Democrats usually con­trolled the state government. Currently the home of the Senate Majority Leader, Mitch McConnell (R), and of a major presidential candidate, Senator Rand Paul (R), the state government is split, with Democrats controlling the governorship and the state House (54-46) and Repub­licans controlling the state Senate (23-14 with one independent).
Today, the 50 states are split dead even between Right to Work and non-RTW status. Local Right to Work in Kentucky could be a game-changer in the struggle to establish a worker's right not to join or pay dues to a union.
[Click HERE for the rest of the article.]