Dozens of news organizations spread the misleading, false narrative that the Women's March purged key board members following controversial anti-Semitic comments and support for the Nation of Islam's Louis Farrakhan. Former board member Tamika Mallory went so far as to share an expletive-ridden post calling the New York Post's reporting on the issue "#RightWingPropaganda." Even the Washington Post, which seems to have been the first to cover the story, reported that the March had "cut[] ties with three original board members."
The truth? The board members simply ended their terms. There was no mass removal of board members out of sincere concern for how Jews may be feeling; in fact, the new makeup of the Women's March leadership shows that animosity towards Jews and hatred of Israel remain the norm.
The news cycle largely focused on Zahra Billoo, executive director of the San Francisco Bay Area chapter of the Council on American Islamic Relations (CAIR), who made an array of inflammatory comments on Twitter ranging from comparing Israel to ISIS to saying the American police are worse than ISIS. With Billoo leaving the board, some commentators believed the Women's March "might finally be ready" to take the concerns from the Jewish community seriously.
Just a cursory glance at comments made by other remaining Women's March board members, however, proves that the Women's March's selection process keeps the board filled with people who hate Jews, hate Israel, and love Farrakhan.
Charlene Carruthers
The Women's March's biography for Charlene Carruthers, founding national director of Black Youth Project 100 (BYP100), states that she is "a leading organizer in today's Black liberation movement." According to her own bio on her website, previously, she was involved with ColorofChange.org and National People's Action (one of several groups that merged into the People's Action Institute. Outlets including the New York Times, Washington Post, CNN, and MSNBC have featured Carruthers' work or interviews.
Over the years, Carruthers has shared tweets exposing her disdain for Jews, her hatred for Israel, and her love for Farrakhan. Specifically, Carruthers tweeted that people consider the lives of black boys less valuable than the lives of "Whites and Jews," who Carruthers makes sure to separate as two different groups of people:
Archive: http://archive.is/y248g
Carruthers also shared another tweet, years earlier, about caring about Africans the same way people care about Jews. She added her own commentary that black people should care about their "own," fellow black people, as much as Jews apparently care about Jews:
Archive: http://archive.is/aTCBA
(Ironically, in another tweet, Carruthers pointed out how considering Jews to be a separate race is an aspect of anti-Semitism, just a year after she suggested Adolf Hitler got his idea of "banishing" Jews from America.)
More telling, Carruthers—like the board members before her—has long-supported Farrakhan. CRC has captured a small subset of the more than 40 tweets that Carruthers' sent out in support of the Nation of Islam leader.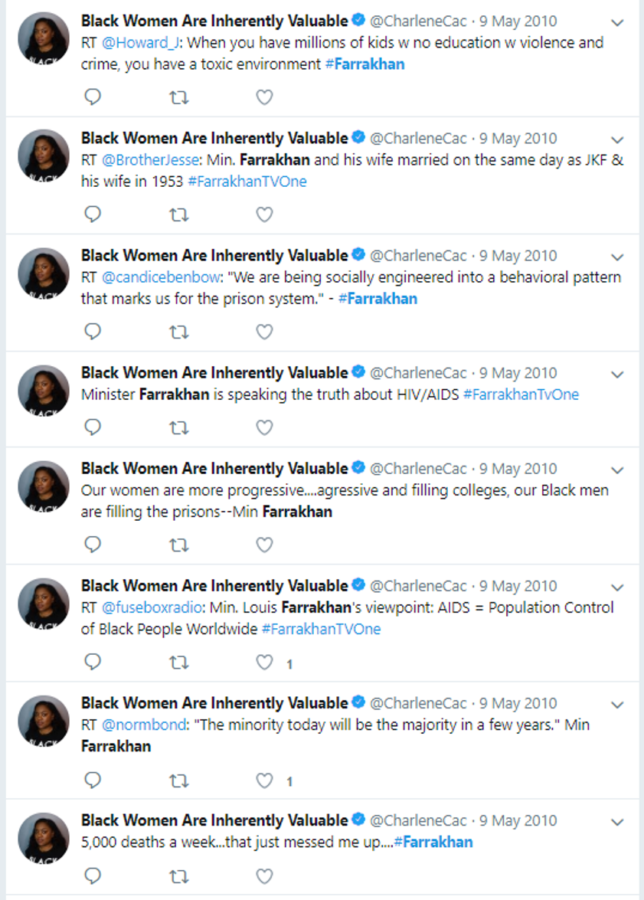 One of Carruthers' most common political positions is calling for an end to aid to Israel to support her own host of issues, epitomized in the tweets below:
In 2015, Carruthers participated in the Dream Defenders trip to Palestine. Ousted Women's March's founder Linda Sarsour was and is still an advisory board member for Dream Defenders and the Women's March's Carmen Perez joined Carruthers on the 2015 trip. The Black Youth Project's website cited Dream Defenders' legal and policy director, Ahmad Abuznaid's, interview with Ebony when describing the trip:
The goals were primarily to allow for the group members to experience and see first-hand the occupation, ethnic cleansing and brutality Israel has levied against Palestinians, but also to build real relationships with those on the ground leading the fight for liberation. In the spirit of Malcolm X, Angela Davis, Stokely Carmichael and many others, we thought the connections between the African American leadership of the movement in the US and those on the ground in Palestine needed to be re-established and fortified.
Samia Assed
One of the other figures who garnered media attention for controversial comments about Israel is Samia Assed; in particular, some of Assed's tweets deny a Jewish connection to Israel, call for a free Palestine "from the river to the sea," and claim the "litmus test" for politicians is where they stand on Palestine.
The Women's March's biography for Assed demonstrates Assed sees herself first and foremost as a proud "Palestinian Muslim-American." According to the summary, Assed is the Board Chair of the Albuquerque Human Rights board and works with the city's Office of Equality and Inclusion as well as the Civil Rights Office.
Although Assed has since protected her Twitter account, there are archives and screencaps of her controversial tweets. In one, Assed states Israel has "never declared it's [sic] borders" and is therefore occupying Palestine:
Assed wrote to 2020 Democratic presidential candidate Kamala Harris that supporting Palestine is the "litmus test" to prove that a candidate is a "true progressive":
Archive: https://web.archive.org/web/20190916193347/https:/twitter.com/samia_assed/status/1087777264115142657?s=20
In a series of tweets, Assed denied Jewish roots in Israel. She claimed the foods, hummus and shawarma are Palestinian, "like the land," and not from "Eastern Europe and Russia":
After reading about the controversy surrounding her and ousted Women's March board member Billoo, Assed laughed at the accusations of antisemitism:
Archive: https://web.archive.org/web/20190916193556/https:/twitter.com/samia_assed/status/1082712849913237504?s=20
Rinku Sen
Only little has been discussed about Rinku Sen's comments about Israel.
The Women's March's biography for Sen mentions her history as the former executive director for Race Forward, a 501(c)(3) dedicated to racial justice and as publisher for Colorlines, Race Forward's publicization.
Sen shared a conspiracy theory that Israel was responsible for forcibly giving birth control to Ethiopian immigrants. This story has since been debunked: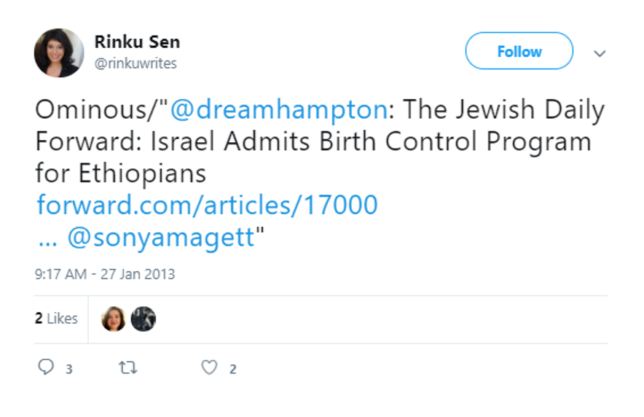 Archive: http://archive.is/r6H3X
In an article published in SFGate in 2001, Ren wrote about leading a "multiracial delegation of community organizers from the United States" the United Nations Conference Against Racism, Racial Discrimination, Xenophobia, and Related Intolerance. Ren's piece mentions the United States boycotted the event because of "(1) proposed language drafted by Arab states equating Zionism with racism and (2) a dispute over the call for reparations for slavery."
In her piece, Ren wrote, "Zionism is a philosophy that claims all of the land from Iraq to Egypt for Ashkenazi (white) Jews. Under its auspices, Israel occupied much of Lebanon for 30 years and is closing in on Year 53 in Palestine. These occupations have devastated the region. Palestinians comprise the world's largest refugee population."
"African countries and descendants of slaves have forced the world to deal with the consequences of the transatlantic slave trade, which literally built the industrialized world and produced unimaginable wealth," she continued.
Leslie Templeton
Leslie Templeton's remarks about Israel have been absent from the discussion about the new Women's March board.
The Women's March's biography for Templeton references her young age, her involvement in the women's March Disability Caucus, and her role in orchestrating housing for students who were allegedly too afraid to leave the country because of Trump's alleged Muslim ban. However, according to Templeton, the ban didn't just impact those who are from countries impacted by the list. She told Boston College's The Heights, "I've talked to a couple of people who are from countries like Bolivia and other places in Central America and Mexico, and they're scared to go home, too," Templeton said. "People are scared that they won't be able to get back into the country."
When it comes to Templeton's political positions, she has shared that she is not a fan of Israel nor America.
Templeton has claimed that, like Israel, the United States has been responsible for allegedly stealing "the land of indigenous people also" and that America has been doing it "for much longer than they've [Israel] been doing it + have killed a lot more people than they [Israel] have":
Archive link: http://archive.is/y8nxy
Templeton called actions by Israel "mass murder" and compared Israel to Saudi Arabia: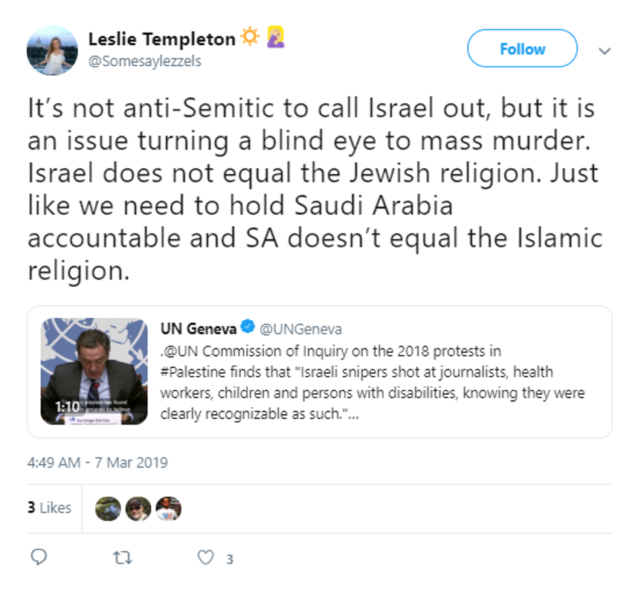 Archive: http://archive.is/F8hx3
This is not the only time Templeton compared Israel to Saudi Arabia: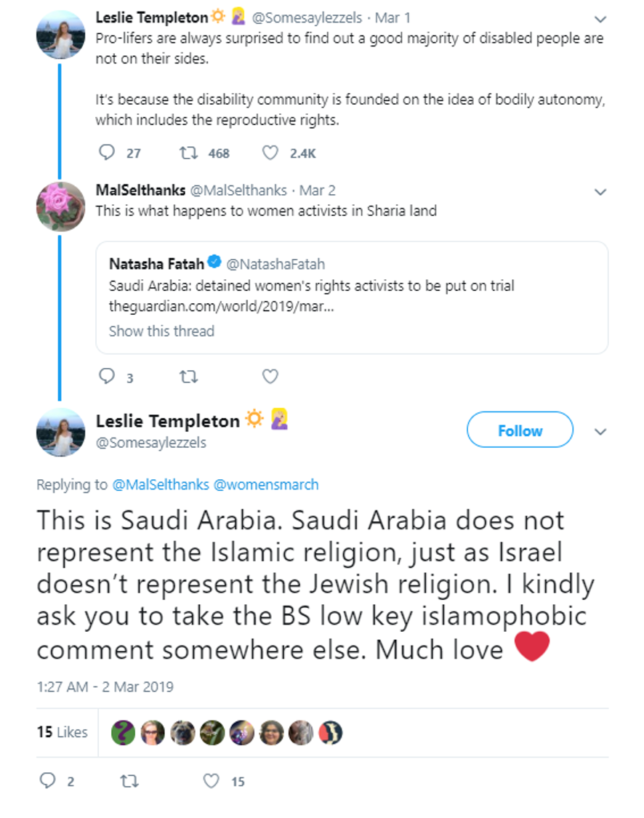 Archive: http://archive.is/1ieQh
Templeton was an apologist for the Women's March during the Farrakhan controversy by pointing to one Jewish person who has been involved in the group:
Archive: http://archive.is/gV90G
More than a quarter of those chosen to replace the original Women's March board have made public statements about how they feel about Israel, Farrakhan, and Jewish people. The new bosses at the Women's March are the same–if not worse–than the old bosses.