Dr. Steven J. Allen of the Capital Research Center attended President Donald Trump's May 31st announcement of the plan to withdraw the United States from the Paris climate accord. The announcement was made in the White House Rose Garden, outside the Oval Office, and featured the President, Vice President Mike Pence, and Scott Pruitt, administrator of the Environmental Protection Agency.
The invitation to Dr. Allen came on the heels of his tireless reporting that exposed the flaws in the Paris agreement.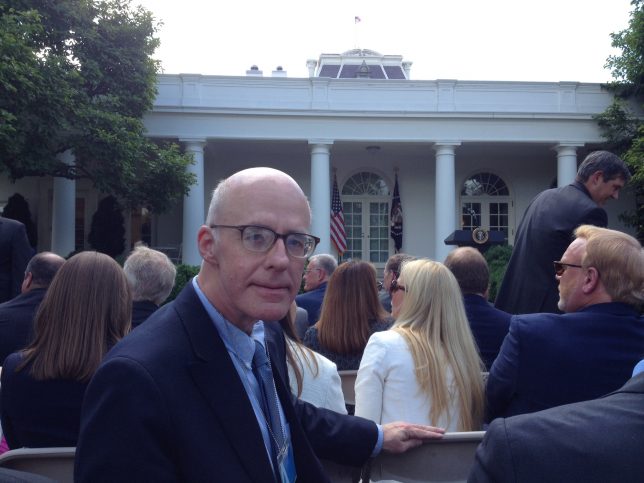 "The Paris agreement is an absurdity that exposes the extremism, dishonesty, and lack of intelligence of the world's elites," Allen noted. "Racing against the clock—trying to lock down a deal before the American people could have their say in the 2016 election—the Obama administration, the Chinese Communists, and gaggles of dictators and kleptocrats, pursuing the get-rich-quick scheme of carbon reparations, joined hands with the cartoonish bureaucrats of the United Nations and the European Union. Together, they delivered unto the world the Paris Climate Treaty, which is a joke.
"Fortunately," he said, "they didn't get the last laugh."
Allen added, "The President's decision to withdraw from the deal is a critical step in the right direction, saving countless American jobs." Regarding the announcement at the White House, Allen said, "It was a great honor to be invited. The invitation, I think, represents recognition of the role played by CRC research in revealing the serious threat that the Paris agreement presents, not just to the U.S. economy, but to science itself."
Read Dr. Allen's complete report on the Paris agreement, "We Won't Always Have Paris."
Read his op-ed that appeared in the Washington, D.C. newspaper The Hill.
See the video on the topic by Dr. Allen and CRC's Jake Klein.
Hear the podcast on the topic featuring Dr. Allen and his colleagues Matthew Vadum and Jake Klein.
For more on environmentalist groups, see CRC's Green Watch.
Dr. Steven J. Allen (J.D., Ph.D.) is vice president and chief investigative officer of the Capital Research Center in Washington, D.C. He writes frequently about labor unions, environmental groups, and the use of deception in politics. Dr. Allen previously served as press secretary to U.S. Senator Jeremiah Denton, as editor of Tea Party Review magazine, and as senior researcher for Newt Gingrich for President 2012.