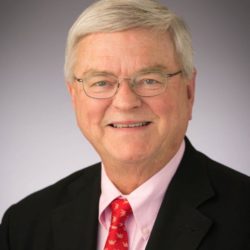 Robert E. Challey
Chairman of the Board, The Park Place Group
A native of Fargo, North Dakota, Robert Challey graduated from North Dakota State University in 1967 with a Bachelor of Science degree in Chemistry.  In 1969 he earned a Master of Science in Physical Chemistry from the University of California, Berkeley, followed by an MBA in 1972.  He received an honorary Doctorate from NDSU in 2009.
Following service as an officer in the United States Army, Challey settled in Walnut Creek, California, where he started businesses engaged in tax planning and preparation, real estate syndication, development, and property management.  He is chairman of the board of The Park Place Group, a real estate development and investment company in Walnut Creek, California.
In 1981 Robert was elected to the NDSU Development Foundation Board of Trustees. He is a founding Trustee of Smuin Ballet in San Francisco, serves on the Board of the world champion Blue Devils Drum Corps, and is on the Board of Directors of AgroThermal Systems, a division of Lazo TCP Global, an agricultural equipment manufacturer.
Sheila Challey serves as a Trustee on the Oakland Children's Hospital Branches Board of Directors, and was recently appointed by North Dakota Governor Doug Burgum to serve as North Dakota's representative on the Kennedy Center Advisory Board.
Robert and Sheila are currently co-chairing the $400 million NDSU capital campaign.  They are active participants in the Koch Seminar Network and supporters of their higher education investments.
Robert and Sheila three children and three grandchildren, and live in Danville and Lake Tahoe, California.
Bob is a collector of old things: wine, trading cards, and postage stamps.