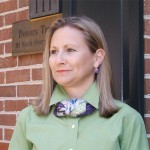 We mourn the death of Whitney Ball, who as founder and longtime leader of DonorsTrust was one of the nation's leading entrepreneurs in conservative and libertarian philanthropy. Her long battle with cancer, which never dimmed her passionate spirit or weakened her religious faith, ended this August.
Whitney not only founded DonorsTrust, a sponsor of donor-advised funds for philanthropists committed to liberty, she also helped Kim Dennis, now at the Searle Freedom Trust, to direct the early years of the Philanthropy Roundtable, a network of individual and institutional donors "working to strengthen our free society, uphold donor intent, and protect the freedom to give." Before that, the West Virginia native and Sweet Briar graduate was a fundraiser for the libertarian Cato Institute and for conservative pundit M. Stanton Evans' National Journalism Center.
As an Evans' protégé, Whitney delivered a moving eulogy last year at his memorial service (video available here; Whitney's talk begins at 19:10). What she said of Stan is just as true of her: neither of them sought fame, and so neither of them was as well known as they deserved to be, yet both of them had an outsized influence in the fight for freedom.
Whitney's contributions appear in the numerous encomia she has received in death (gathered at this memorial page at the DonorsTrust website). Whitney helped to launch the State Policy Network, the Student Free Press Association, and the Talent Market, for instance. But it's the aggregate giving of DonorsTrust that best demonstrates how wide her influence has been. As William E. Simon Foundation president James Piereson explains in his tribute to her, Whitney "built DonorsTrust into a formidable force that now distributes approximately $90 million per year to conservative causes, the largest annual pay out of any conservative organization." During its 16 years of life, Piereson adds, DonorsTrust has donated nearly three-quarters of a billion dollars to conservative and free-market organizations.
That explains why Whitney came under scathing attack by the Left, but she never flinched, even as she fought breast cancer for an amazing 14 years. Under her guidance, DonorsTrust battled not only for liberty, but also for an even more rarely defended cause: Donor intent. Countless conservatives have lamented the way fortunes that were built by liberty-loving entrepreneurs have ended up in the hands of those who despise the free-market system which made the wealth they now control possible. But before Whitney, almost no one did anything enduring to change this situation.
With DonorsTrust, she launched an institutional vehicle that would allow donors to escape that fate. As she explained in an interview with CRC vice president Scott Walter for Philanthropy magazine, DonorsTrust allows a funder to open a donor-advised fund and know that the money will never be given to any group that works against "limited government, personal responsibility, and free enterprise." Donors also have the option to invest in field-of-interest funds that combine multiple donors' contributions and focus them strategically on the most promising grantees in areas like K-12 education reform.
In that same interview, Whitney offered wisdom on other topics, such as the need for government to keep its regulatory fingers off of donor-advised funds, which typically outperform their private foundation rivals. She also discussed the best ways for donors to pass on the habit of giving to their children. "If you involve your children early in philanthropic decisions, they'll learn from it," she advised. "Above all, I think what's most important is being involved with the kids. Often people who lament the next generation's decisions were never involved with that generation until it was too late."
Whitney, by contrast, was involved with so many people. "No one," Piereson concludes, "knew the landscape of the conservative movement better," which makes Whitney's death "a heartbreaking loss." Our thoughts and prayers go out to her brother, her parents, and her legions of friends.
Terrence Scanlon, president
Capital Research Center