If you want to know who's damaging American democracy, don't point to Donald Trump—look at his leftist detractors.
That's the major theme of Wall Street Journal editorialist Kimberley Strassel in her book Resistance (At All Costs): How Trump Haters Are Breaking America. The book reveals the breathtaking scope of the well-oiled, left-wing machine created to destroy President Trump.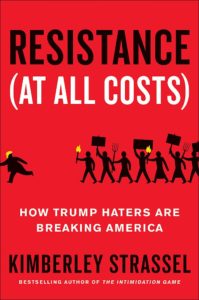 Even before Trump took office, a cabal of ultra-wealthy special interests, influential media outlets, "dark money" funders, and radical activists sought to destroy his presidency with a campaign of lies and distortions. They intended to make Americans believe their lawfully elected president is an enemy of democracy. But in its campaign to impeach Trump, the so-called Resistance has undermined the Constitution and respect for democratic institutions, perhaps permanently.
"Dark Money" Interests
CRC first identified some of the biggest "dark money" interests that weigh heavily in Strassel's book. Chief among them is the $600 million empire controlled by Arabella Advisors, a consulting firm based in Washington, DC, that caters to the wealthiest and most powerful foundations on the Left.
Arabella's efforts to derail the Trump presidency—and stop Brett Kavanaugh's nomination to the U.S. Supreme Court—were exposed in my report published last year "Big Money in Dark Shadows."
Strassel points out that donations to the Sixteen Thirty Fund, Arabella's 501(c)(4) lobbying wing, skyrocketed under Trump—almost quadrupling from $21 million in 2016 to $79 million during his first year in office.
The following year, Sixteen Thirty unleashed its own contribution to the anti-Trump "Resistance": Demand Justice, which she notes was "created entirely to 'instill' a 'zeal' in 'progressive voters on issues related to the federal judiciary'" (read: any of Trump's nominees for federal courts).
Justice on Trial: The Kavanaugh Confirmation and the Future of the Supreme Court also cited CRC's work exposing Demand Justice's attempt to attempt to sabotage Kavanaugh's confirmation. Read our summary here.
The "Watchdog" Offensive
But an even bigger "Ethics Resistance" was formed by leftists desperate to impeach the president, detailed admirably by Strassel in both the book and her Wall Street Journal column. Supposed "watchdog" groups with innocuous names such as American Oversight, Democracy Forward, and Restore Public Trust popped up in 2018, using Freedom of Information Act requests to slow down the administration.
Of course, they had an ulterior motive: helping Democrats win big in the 2018 midterms.
Their boards and senior staffers were brimming with left-wing luminaries such as attorney Marc Elias, Hillary Clinton's general counsel, and Clinton crony John Podesta, her campaign chair in 2016.
As Strassel makes clear, one of them—Restore Public Trust—isn't even a real nonprofit, but a "pop-up" group created by the New Venture Fund, the flagship of Arabella Advisors' "dark money" network. Far from being "grassroots," it's Astroturf activism at its worst.
Professional protesting is a big business in the age of Trump, with millions of dollars invested in the hundreds of organizations that make up the Resistance. Strassel is characteristically to the point: "The reality is that so long as Trump is president, the Resistance will continue."
It surely will if special interests like Arabella Advisors have any say.