Have you heard of the Silicon Valley Community Foundation (SVCF)? Few have, outside of Bay Area philanthropic cliques.
That changed in April, when the Chronicle of Philanthropy revealed allegations of sexual and emotional abuse by top staff against employees. Mari Ellen Loijens, the foundation's accomplished chief fundraiser, was accused of violently berating workers as "stupid," making crass comments, and trying to kiss a female staffer. Former employees interviewed by the Chronicle had little better to say about Loijens, calling her management style "the worst," and blaming her for creating "a very toxic work environment."
The accusations were so egregious it prompted longtime SVCF CEO Emmett Carson to hire a law firm to conduct an investigation into Loijens' behavior. Loijens resigned a day after the allegations were revealed.
Unfortunately for Carson, however, that wasn't the end of the ordeal. On April 25, a letter signed by 65 employees—half of the staff, and some anonymously out of fear of "retribution"—asked the SVCF board to "change our culture and restore integrity to this organization," blaming him for encouraging the abuse. The board placed Carson on paid administrative leave the next day, and he has since signaled his intent to resign completely. The letter also singled out HR vice president Daiva Natochy for supporting the abuse; she resigned on May 1.
This latest episode in the #MeToo sex abuse vein has shed light on the otherwise quiet foundation, which has generally flown under the radar since its creation from a merger of two local foundations—the Community Foundation Silicon Valley and Peninsula Community Foundation—in 2007.
So what is the Silicon Valley Community Foundation?
For starters, it's huge: with nearly $6.5 billion in assets according to 2016 federal filings, it's the 11th-largest foundation in the United States. Consequently, it's one of the biggest grantmakers in the country: according to the website Foundation Search, SVCF has given away at least $2.6 billion in 22,847 grants since 2005 (prior to its 2007 merger).
Much of this rapid growth can be attributed to its donor-advised funds—accounts funded by individual donors which operate as a kind of pass-through for funding the causes of their choosing. Forbes has identified 16 of those SVCF donors—all Bay Area billionaires and mostly tech elites, including Facebook founders Mark Zuckerberg and Dustin Moskovitz, Netflix founder Reed Hastings, Twitter co-founder Jack Dorsey, Oracle co-founder Larry Ellison, and Google co-founder Sergey Brin. Over the years, those elites have donated billions of dollars in shares in major tech firms like Facebook, GoPro, and WhatsApp to the SVCF.
SVCF manages a staggering $13.5 billion in donor-advised fund assets, according to a February press release, raising it the third-largest foundation in the U.S. by managed assets after the Bill and Melinda Gates Foundation and George Soros's Open Society Foundations. And like those other mega-foundations, SVCF is a less-political, but still consistent funder of the Left. Among the more prominent recipients of SVCF donations are Food and Water Watch ($11.6 million), the New Venture Fund ($5.8 million), and the Nature Conservancy ($5.86 million).
A Silicon Web
But the biggest group most active in left-wing politics to receive SVCF money—in a single $64.9 million grant in 2012 for "building community"—is Good Ventures, another Bay Area foundation.
Good Ventures has an obscure history. Like SVCF, it's tied to the left-wing tech elite; Dustin Moskovitz and his wife, Cari Tuna, founded it in 2011 as the couple's primary grantmaking foundation, and both sit on the board (Tuna is also president). It was launched as a project of SVCF; federal filings for 2013 show SVCF as a "direct controlling entity" of Good Ventures, and its Form 990 filing for 2015 list it as "c/o [care of] Silicon Valley Community Foundation." The group calls its website a "joint presentation" partially supported by the Open Philanthropy Fund, an SVCF donor-advised fund.
Structurally, Good Ventures consists of three separate organizations: Good Ventures (a 501(c)(3) nonprofit), Good Ventures Foundation, and Good Ventures, LLC (a for-profit investment firm). In reality, it's a shell for other left-wing funders—employing no full-time staff of its own (according to its own website) and making grants based on recommendations from the Open Philanthropy Fund and a related liberal group, GiveWell.
The two organizations are so closely connected that Good Ventures is essentially an arm of SVCF. Four SVCF officers sit on the Good Ventures board. The website Way Back Machine shows that, until recently, Emmett Carson and Mari Ellen Loijens also sat on the Good Ventures board. (They were presumably removed in April 2018, following the scandal.)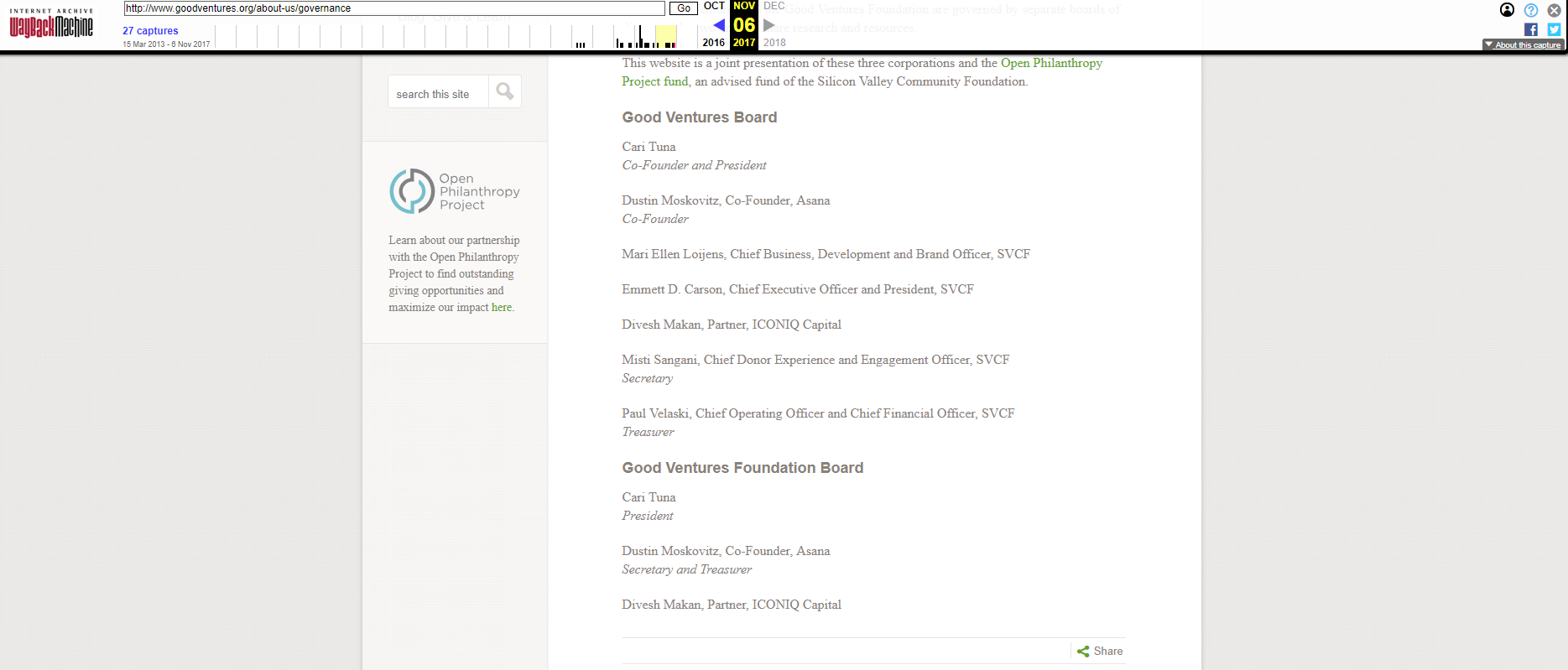 It's a wealthy ally to have, too. Good Ventures' Form 990 filings for 2015 show assets of $316 million and revenues of $178 million. 2015 filings for its sister organization, Good Ventures Foundation, show another $491 million in assets and $233 million in revenues. Combined, that's more than $807 million in total assets and $411 million in revenues for a single year—not bad for two nonprofits that are less than seven years old.
Good Ventures Foundation funds a number of research groups with an emphasis on left-wing economics, including the Economic Policy Institute (EPI), Center on Budget and Policy Priorities (CBPP), and the Roosevelt Institute. These think tanks are closely aligned with Big Labor; AFL-CIO president Richard Trumka is EPI chairman, and former Democratic Secretaries of Labor Ray Marshall and Robert Reich as well as Democratic-Farmer-Labor Party Rep. Keith Ellison (Minnesota) sit on the EPI board. CBPP is a strong supporter of Obamacare and higher taxes on the wealthy; and the Roosevelt Institute supports the Consumer Financial Protection Bureau (created during the Obama administration).
Good Ventures Foundation has also supported liberal criminal justice reform groups on the Left, like the Promise of Justice Initiative, whose staff and board consist of lawyers from the American Civil Liberties Union (ACLU) and a former Soros Justice Fellow, and list George Soros's Open Society Foundations as a partner. Two more criminal justice reform groups funded by Good Ventures Foundation—Accountable Justice Project and the Alliance for Safety and Justice—are projects of two major left-wing pass-throughs, the Proteus Fund and the Tides Center, respectively.
Philanthropy or Cupidity?
What lessons can be learned from the Silicon Valley Community Foundation? Perhaps the SVCF offers a warning of what can go wrong when a foundation created to aid its local community grows obsessed with "being the biggest community foundation in the world," in the words of one former employee whose review of SVCF on the website Glassdoor called the leadership's avaricious ambitions "incredibly misguided." In fact, many of its biggest critics have been its own staff—many of whom have left caustic reviews with similar objections to the foundation's real goals:
No mission outside of being the largest community foundation in the world. . . . SVCF ultimately serves little purpose beyond helping the 1% evade taxes by putting money into charitable brokerage accounts.

. . . I have worked well over ten years with all types of philanthropies around the world, and this place is nothing more than a money making machine.

Emmett [Carson] proudly announces at staff meetings that perception is all that matters. If you look behind the curtain you will find a leader who only cares about growing SVCF's assets at the expense of his staff or actually upholding the organization's supposed mission.
Even the liberal New York Times admonished SVCF's leadership for pushing the staff "to raise as much money as possible," in order to fund international and national causes over and above local ones. And while the SVCF has been lauded for spending millions on local charities and causes, Carson, Loijens, and Natochy set their sights on a loftier goal—hitching a ride on the enormous affluence generated by Silicon Valley's fast-growing technology firms. That would make SVCF the wealthiest foundation in the United States—with "little interest in spending money. . .on the community it was meant to serve," wrote the Atlantic.
With its abusive leadership gone, the Silicon Valley Community Foundation has an opportunity to stop playing at local philanthropy and rebrand itself a national foundation, or to return to helping the communities it was created to serve. Judging by the actions of the board and the SVCF staff, they remain committed to the latter; the foundation's disgraced leadership did not.
In this light, Loijens' disturbing remarks to a young black employee working late one evening—"Work, slave, work"—offer insight into leadership driven more by greed than a commitment to local charity. The sordid episode should serve as a lesson of a wealthy foundation gone awry: "He that loveth silver shall not be satisfied with silver; nor he that loveth abundance with increase."