Labor Watch Scott Walker vs. The Unions: Part 1: Wisconsin reforms lead to protests, recalls, and battering rams in the night
---
Labor Watch June 2015
Scott Walker vs. The Unions
Part 1: Wisconsin reforms lead to protests, recalls, and battering rams in the night [PDF here]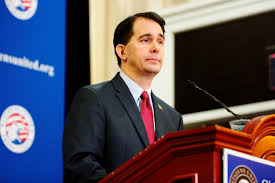 Summary: In politics, it's said, you're known by the enemies you make. Gov. Scott Walker (R-Wisconsin) is best known nationally for his battles with unions—from his reforms that brought 100,000 protesters to the state capitol, to the efforts by the unions to throw him out of office, to the passage of a Right to Work law. Now Walker is expected to run for president. This is part 1 of his story.
The invitation-only ceremony was held March 9 at Badger Meter, a manufacturing company near Milwaukee, Wisconsin. As he prepared to sign landmark Right to Work legislation, Governor Scott Walker (R) sat with rolled-up sleeves at a table with a "Freedom to Work" sign emblazoned across the front. In front of a group that included Wisconsin Senate Majority Leader Scott Fitzgerald and Assembly Speaker Robin Vos, Walker said the legislation he was about to sign would send "a powerful message across the country and around the world."
Only months earlier, Walker had seemed cool on Right to Work, calling it a "distraction." Now, with the stroke of Walker's pen, Wisconsin became the nation's 25th Right to Work state—the 25th state to give workers the freedom not to join a union or pay union dues.
During the event, Rich Meeusen, chief executive and chairman of Badger Meter, said that even before this legislation was signed into law, it had had an effect: It had swayed Badger Meter management to expand in Wisconsin instead of Mexico, immediately creating 12 jobs, leading to 30 to 50 new jobs later on. (Mike Brown of the left-wing group One Wisconsin Now described Meeusen's remarks as those of "a millionaire campaign contributor who threatened to send the jobs of hardworking skilled Wisconsin workers to another country unless the system was tilted further in his favor.")
The signing of Right to Work was the latest blow delivered by Walker to labor unions in his state. It was Walker's latest victory in a battle with unions that has run throughout his governorship, that made him, in the words of the publication Politico, "Public Enemy No. 1 for organized labor nationwide." In this protracted struggle, unions have attempted to paint the governor as a rabid union-hating right-winger, and in the process they have helped catapult Walker to the top tier of candidates, declared and undeclared, for the GOP presidential nomination in 2016.
The road to the governorship
Scott Kevin Walker was born in Colorado Springs, Colorado, on November 2, 1967. He spent his early childhood in Plainfield, Iowa, where his father, Llewellyn Scott Walker, was pastor of a local Baptist church. In 1977, Llew Walker's ministry moved the family to Delavan, Wisconsin, where Scott became active in sports, band, and the Boy Scouts. (He became an Eagle Scout.)
Walker says his interest in government began when he was in high school, where he attended the American Legion's Badger Boys State Program. He was chosen to serve as a representative to Boys Nation in Washington, D.C., in which, according to the American Legion, "the young leaders receive an education on the structure and function of federal government."
Walker started college at Marquette University in Milwaukee in 1986, leaving during his fourth year. (For years, Democrats claimed falsely that, as the Wisconsin Democratic Party's website put it as late as 2013, he was kicked out "after masterminding a scheme that destroyed newspapers critical of him." After the Milwaukee Journal-Sentinel's PolitiFact debunked the Democrats' accusation, they removed it from the website.)
He worked as a financial developer for the American Red Cross and won his first political office in 1993, when he was elected to Wisconsin's State Assembly. After four terms in the Assembly, Walker was elected in 2002 to serve as County Executive of Milwaukee. In that job, Walker says, he cut the county's workforce by upwards of 25 percent, reduced debt by 30 percent, and authored nine consecutive budgets that did not increase property tax levies.
In 2006, he ran for the Republican nomination for governor, but dropped out before the primary. The nominee, U.S. Rep. Mark Green, lost to incumbent Democrat Jim Doyle by 45 percent to 53 percent. [For the rest of the article, click HERE.]