An update on labor issues, from the upcoming issue of Labor Watch.
Volkswagen management and the United Auto Workers (UAW) moved to partially unionize VW's Passat plant in Chattanooga—the plant where workers recently voted to reject the union! [See the lead story in the upcoming Labor Watch.] "We have a consensus agreement with Volkswagen management to form the local and be recognized when we get a majority of the workers to join," said UAW International Secretary-Treasurer Gary Casteel, who (in the words of USA Today) "has been overseeing the union's organizing drives at the Southern auto plants for the past several years—unsuccessfully, until now." The union's rationale: a majority of workers, prior to the vote, signed cards indicating support for the union (never mind that they subsequently voted against the union, which proves "card check" is a fraud). For now, no dues will be collected.
Dan Calabrese wrote in the Canada Free Press: "Oh those sneaky unions! Even though employees at Volkswagen's Chattanooga plant voted decisively to reject United Auto Workers representation, the UAW wasn't about to be stopped. . . . They are strangely getting an assist from management, which cut a separate deal to let the UAW come in and set up a local, despite the workers' vote. That means the UAW can set up operations and start recruiting members, the vote notwithstanding. And if they manage to recruit a majority, they will officially become the collective bargaining representative of the workforce."
The U.S. Supreme Court in Harris v. Quinn dealt a severe blow to the Service Employees International Union (SEIU), the union most closely associated with President Obama. As reported in the January Labor Watch, the case involved people who care for loved ones and receive state subsidies. The principal plaintiff, Pamela Harris, has a 25-year-old son with a genetic disorder for whose care she receives a monthly Medicaid check of approximately $1,300. Officials in Illinois declared SEIU to be the union representing home care workers, at which point the union began collecting dues automatically (about $90 a month from Harris).
Much of the money went to support the union's left-wing politics. But in June, the Supreme Court ruled for the workers. Harris said the victory "means that there's not going to be a union contract inserted between my son and me. There's not going to be union rules and regulations dictating how I can provide the care that Josh needs." Lawyers for the National Right to Work Foundation, which represented Harris, say they're pursuing a refund of the compelled union dues.
In Rhode Island, the state treasurer, Gina Raimondo (D) pushed a plan through the state legislature in 2011 that the Wall Street Journal called "arguably the country's boldest pension reforms," which "froze current workers' accrued benefits, suspended retirees' cost-of-living adjustments, raised the retirement age, and replaced unsustainable defined-benefit pensions with hybrid plans that include a modest annuity and a 401(k)-style component." The plan would have nearly halved the state's unfunded liability.
Unions sued, and a judge ruled the pensions constitute "an implied contract," but Raimondo and Gov. Lincoln Chafee (D) negotiated a deal that kept 94% of the savings. More than 70% of state workers and retirees backed the compromise, but a majority of police officers voted against the deal, killing it. Now the case will go to trial a week after September's primary election, in which Raimondo is running for governor (and unions hope to defeat her). The Journal editorialized that "the larger political lesson for government reformers is that public unions will never compromise until they are defeated in court and at the ballot box."
Even the left-wing Huffington Post recognizes how far our public schools have fallen. HuffPo blogger Hilary Gowins wrote, "Philadelphia public schools are in shambles . . . Only 14 percent of fourth graders are deemed proficient in reading. The state of New Jersey recently took control of Camden's public schools, after administrators . . . ran the system into the ground with a combination of unsustainable spending ($23,700 per student) and incredibly low success rates (fewer than half of students graduated high school in 2012)."
But a Chicago school's prom slogan shows how bad things really are. "This spring, just like high schoolers at schools across America, students at Paul Robeson High School planned their prom festivities. They picked dresses, tuxes, corsages, and boutonnieres. But before all of that, they picked a theme: 'This Is Are Story.'" [See photo.] Gowins didn't note, but we will: The school is named after a Communist who once accepted a Soviet prize named for Joseph Stalin, one of history's greatest mass murderers.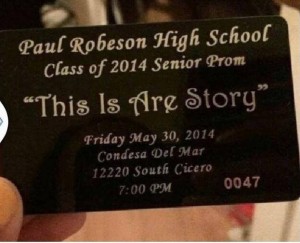 Chicago Mayor (and former Obama White House Chief of Staff) Rahm Emanuel, who's running for re-election, is in trouble. In one recent poll, he pulls 36 percent, compared to 45 percent for Karen Lewis. Who is Karen Lewis? President of Chicago's teachers' union.
Capital Research Center's Henry Haller interns Marc Connuck, Maria Girard, and J.T. Mekjian contributed to this report.