The Institute for Research and Education on Human Rights (IREHR) has become even more Orwellian: Now the organization promises to track its critics on social media.
Last month, the Capital Research Center published a piece highlighting IREHR's "Trepper" app, which is meant to document and report what the organization considers biased incidents. While the app itself is mostly barebones, IREHR president Devin Burghart promised that it would use "the latest in machine learning and artificial intelligence to see if people in the videos you submit are known white nationalists." This, of course, leads to concerns not only about who the organization considers a white nationalist, but also over potential privacy violations.
This reporter shared the findings from the original CRC report on Twitter. In a series of tweets, which are still available, IREHR mocked the report for providing "free PR" for the organization and said it would be tracking anyone who liked or retweeted the post.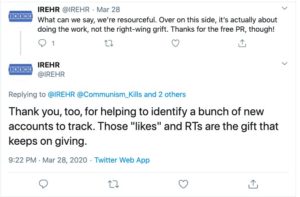 One of the most common tweet adages is that likes and retweets do not necessarily indicate endorsement; however, IREHR stated that it would be adding whoever liked and retweeted the post to what sounds like a list of political enemies. This is particularly concerning—though expected, considering the organization's leaders are inspired by communist intellectuals.
This also helps drive home the point of CRC's original article: If IREHR is now tracking random users on Twitter who like and share an article exposing IREHR, who else is IREHR tracking?