[Continuing our series on deception in politics and public policy.]
In the search for examples of deception by the news media, sometimes you find a smoking gun.
See my study results, below.
———
You may have noticed that major media such as the New York Times sought to make Saturday's commemoration of "Bloody Sunday" a unipartisan affair. Some say that included the selection of its image marking the event:
Former President George W. Bush was there, too, as this shows (he's near the right):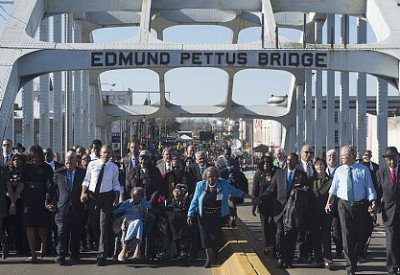 An innocent mistake, I'm sure. Or just a choice of composition.
———
I've dealt in this space with the effort by people on the Left to scrub the record, to remove from the nation's collective memory the critical involvement of Progressives in discrimination against African-Americans. That Woodrow Wilson segregated the federal government and legitimized the Ku Klux Klan and that Wilson's treasury secretary and son-in-law was later the Klan's candidate for president, that FDR helped Wilson segregate the government and that FDR's New Deal cornerstone, the National Recovery Administration, was a racist enterprise (African-Americans called it "Negroes Ruined Again"), that Planned Parenthood founder Margaret Sanger was a eugenicist seeking to limit "mongrel races"—those are things you're not supposed to talk about.
And there's this: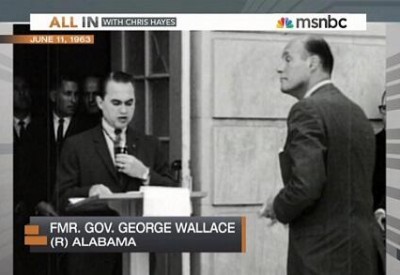 Notice anything in that screen capture from MSNBC, the "news" network for left-wing extremists?
George Wallace, the personification of 1960s racism, the man who (as shown in that picture) made a "stand in the schoolhouse door" in an attempt to prevent African-Americans from attending the University of Alabama, was a Republican. Not really, of course—just in the mind of the folks at MSNBC.
Now, it is true that they apologized. Maybe it was just an innocent mistake.
…like when the online magazine Salon ran an illustration suggesting that Wallace was a Republican.
…or when Politico ran an illustration suggesting that Wallace was a Republican.
Innocent mistakes all, right?
To determine how often such innocent mistakes occur, I did a little experiment. I looked in the Lexis/Nexis database of news articles for every reference to George Wallace that appeared between February 26, 2014, and Monday morning, March 9.
I eliminated items that were listed as letters-to-the-editor or the like, as well as lists (such as a list of characters in the movie "Selma" and a list of people who had Parkinson's disease); I included both news articles and commentaries, both articles in local papers and wire-service articles and radio and TV transcripts. Then I looked to see how many of the articles listed Wallace's political party affiliation within 25 words of the name "George Wallace," "George C. Wallace," or "George Corley Wallace."
Most of the articles mentioned Wallace in the context of the Selma anniversary, the movie "Selma" in which he was a character, or the recent actions against same-sex marriage by Alabama Supreme Court Justice Roy Moore. (Moore holds the position on same-sex marriage that was held, until 2012, by President Obama and Secretary Hillary Clinton. In the eyes of the Left, that makes Moore a bigot in the mold of George Wallace, under whose governance civil-rights workers were killed with impunity. Six of one, half-dozen of the other.)
I should note, with regard to my little experiment, that there are some circumstances, some contexts in which there might be a good reason for failing to list his affiliation within 25 words. In a small number of cases, his affiliation might be obvious from one's reading of earlier paragraphs. I acknowledge that my experiment is not perfect, and leave it to the reader to determine if the results indicate a pattern of bias. It's the overall pattern that counts, not whether any individual writer or editor made a good judgment call in leaving out the affiliation or placing it outside the 25-word zone I specified.
The results:
Based on the criteria I listed, the following news media/authors ran articles that mentioned Wallace's affiliation within 25 words of "George Wallace," "George C. Wallace," or "George Corley Wallace": 
Washington Post (Fred Barbash)
The following news media/authors ran articles that failed to mention Wallace's affiliation within 25 words of "George Wallace," "George C. Wallace," or "George Corley Wallace": 
Al Jazeera (Christopher Sheridan)
The Independent (London) (Rupert Cornwell)
Syndicated column of Clarence Page
UPI (Andrew V. Pestario)
Associated Press (Jay Reeves & Darlene Superville)
Associated Press (Kim Chandler)
Chicago tribune (Stephan Benzkofer)
New York Daily News (Rich Shapiro et al.)
New York Daily News (editorial)
Decatur (Alabama) Daily ("staff writer")
Evansville (Indiana) Courier & Press
Las Vegas Sun
Bloomberg News (Margaret Talev & Dan Przygoda)
Macon (Georgia) Telegraph (Charles E. Richardson)
Daily Mail (Great Britain) (Sophie Jane Evans)
New York Times (Peter Baker & Richard Fausset)
New York Times (Dave Itzkoff)
New York Times (Gay Telese)
Politico (Mike Allen)
Sunday Tribune of South Africa
Washington Post (Greg Jaffe, Juliet Eilperin)
Christian Science Monitor (Brad Knickerbocker)
Christian Science Monitor (Patrick Jonsson)
CNN (Fredericka Whitfield & Van Jones)
CNN (John Blake)
CNN (Ben Cosgrove)
CNN ("CNN Library")
Commercial Appeal (Memphis) (Katie Fretland)
Commercial Appeal (Memphis) [movie review]
Daily Commerce of Boulder, Colorado
Tribune News (David A. Love)
Tribune News (Christi Parsons)
Chronicle Express (Gwen Chamberlain)
NPR
NPR
NPR
NPR
Toronto Star
U.S. News & World Report
Agence France Presse
Atlantic (Benjamin Heden)
Gwinnett (Georgia) Daily Post (Dick Yarborough)
China Daily (Elizabeth Kerr)
Commercial Dispatch (Columbus, Mississippi) (Isabelle Altman)
Guardian (Great Britain) (Paul Lewis)
Hartford Courant (Jenny Wilson)
Peoria (Illinois) Journal-Star (editorial)
Rockford Register-Star (editorial)
Vancouver Sun [movie reviews]
Washington Post (Wesley Lowery)
University Wire [college newspaper news service] (Andrew Cassarino)
Frontrunner
Salisbury (North Carolina) Post (Leonard Pitts)
Birmingham Business Journal (Ryan Phillips)
Globe and Mail (Canada) (Liam Lace & Geoff Pevere)
Foghorn (University of San Francisco)
O'Reilly Factor on Fox News
Lexington (Kentucky) Herald-Leader (Merlene Davis)
Commercial Review (Portland, Indiana)
Fort Wayne (Indiana) Journal-Gazette
Pitt News (University of Pittsburgh) (Lauren Rosenblatt)
Tehlequah (Oklahoma) Daily Press
American Prospect (Barry Yeoman)
Buffalo (New York) News
Herald-Sun (Durham, North Carolina)
Montgomery (Alabama) Advertiser (Brian Lyman)
Montgomery (Alabama) Advertiser (Brian Lyman)—2nd article
Montgomery (Alabama) Advertiser (Marty Roney)
Montgomery (Alabama) Advertiser (Rick Harmon)
Fresno (California) Bee (Rick Bentley)
Oregonian (Tony Hernandez)
Philadelphia Tribune (Kim M. Keenan)
La Prensa San Diego (Herman Baca)
Queanbeyan Age (Stefan Kussy)
Austin American-Statesman (Jeanne Clair van Ryzin)
Downtown Express / The Villager of New York
76-to-1.
Squint really hard, and perhaps you can see a pattern.
By the way, as many articles mentioned Wallace's middle initial as part of a trivia quiz (What does the "C" stand for? Corley) as mentioned his party affiliation (which would be "D," for something or other).
=====
Addendum:
Were you as disgusted as I was, to see Barack Obama, the anti-Martin Luther King, putting himself in Dr. King's place?
Saturday was the 50th anniversary of "Bloody Sunday," when state troopers under the ultimate command of Governor George C. Wallace (D-Alabama) attacked peaceful protesters in Selma, Alabama, who were backing African-Americans' right to vote. (How bad was it? In Lowndes County, Alabama, which was 81 percent African-American, not a single African-American was registered to vote.)
The commemoration in Selma was hijacked by President Obama, whose ideology is precisely the opposite of that shared by most of the original marchers.
The President opposes even the simple measure of voter ID, a safeguard used in Canada, in Mexico, in the late Nelson Mandela's South Africa, and in other countries around the world to ensure that legitimate votes aren't cancelled out by phony ones. He claimed this past weekend that a requirement of voter ID is racist and anti-senior citizen because "getting a voter ID might cost 75, 100, 150 bucks." Seriously. That's what he said.
He also supports an exemption from the pre-clearance provisions of the Voting Rights Act for those jurisdictions that were deemed half a century ago not to discriminate against African-Americans.  Again, I'm not kidding. President Obama supports an exemption from what liberals call "the heart of the Voting Rights Act" based on what states and localities were doing in the early 1960s. (Imagine, say, passing a law allowing the feds to override local jurisdictions on gay-rights laws in order to protect gay people, but applying the law only to localities such as New York City and San Francisco where discrimination against gays was worst as of 1965.)
Meanwhile, Mr. Obama has done nothing to stop left-wingers across the country from eliminating the right to a secret ballot via the subterfuge of mail-in voting. Already, Oregon, Washington state, and Colorado have eliminated the secret ballot entirely, California is close to a complete elimination, and, in other states, that basic right has been eliminated effectively.
Martin Luther King led a peaceful revolution against Jim Crow, which Democrats created to protect their power over those whose ancestors were slaves. He declared that his goal was a society in which (so-called) race would no longer be a factor in our lives. Barack Obama, who claimed he was mentored by hate leader Frank Marshall Davis and who claimed he was brought to Christianity by hate leader Jeremiah Wright, and who made hate leader Al Sharpton his point-person on "race" matters, does not belong in King's place. Which is why the folks at the New York Times have to work so very hard to put him there.