One of the Obama administration's most heinous attacks on the First Amendment has at last been partially resolved. On October 26, the Trump administration's Department of Justice announced it had entered into settlements with the 400-plus conservative groups whose tax-exempt status was delayed due to ideologically motivated scrutiny by the Internal Revenue Service (IRS).
As CRC reported in Organization Trends, Lois Lerner—then-head of the IRS Exempt Organizations Division—converted her outfit into the Obama administration's attack dog, harassing nonprofits with conservative-sounding names by the use of "unexpected audits, inspections, and fines." Amid anti-"Tea Party" rhetoric from the White House, Lerner directed the IRS's Cincinnati, Ohio, office to target 501(c)(4) social welfare organizations applying for federal tax-exempt status whose name contained phrases like "tea party," "patriot," and "Israel" with greater scrutiny. The assault froze many conservative groups in limbo, rendering them unable to participate fully during the 2012 election season because they were unable to guarantee that they would not be subject to taxation because of an IRS list designed to stymie right-leaning groups hostile to President Obama's re-election.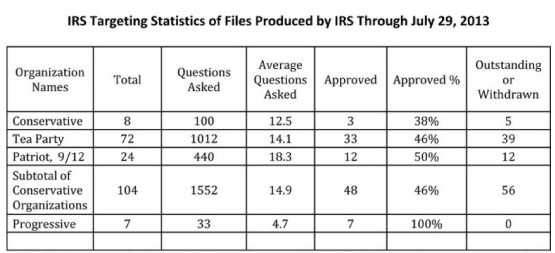 The IRS only admitted to the scheme in spring 2013, when it passed the blame onto lower-level employees at the Cincinnati office. Lerner, however, invoked her Fifth Amendment right against self-incrimination when brought to testify before Congress – after confirming the IRS abuses. Before Congressional inquirers could obtain a comprehensive list of targeted groups, the IRS mysteriously destroyed the storage media containing relevant records and emails.
Far-left hacks in the media rapidly entered "cover-up mode:"
Media Matters for America posted many items attacking whistleblowers and insinuating that the Republican investigators involved were unethical. Among the posts were: "The IRS 'Scandal' Was A Scam" (June 26, 2013); "Fox News Pushes Issa's Selective Interview Leaks, Ignores Calls To Release All Transcripts" (June 17, 2013); "Debunked Right-Wing Myths Persist In State Newspapers" (June 2, 2014); and "Fox Twists Loss Of IRS Emails Into Nefarious Conspiracy" (June 18, 2014).
Unperturbed by the past abuses, IRS commissioner John Koskinen later urged the creation of "new rules to limit political activities of nonprofit organizations in place before the 2016 election [paraphrased]." On October 26, the Trump administration announced Koskinen's term will end on November 12. He will be replaced on an interim basis by Assistant Secretary of the Treasury for Tax Policy David Kautter, who was confirmed to that position by the U.S. Senate in August.
See CRC's full report on the IRS's Tea Party scandal in Organization Trends.