The Left's "Dark Money" Coordinator (full series)
A Financial Clearinghouse | Just Passing Through | Funding "Civic Engagement" | Eyes on 2020
Summary: NEO Philanthropy is one of the Left's best-kept "dark money" secrets. Commanding hundreds of millions of dollars, the group plays a key role in "incubating" dozens of new activist groups and coordinating left-wing efforts to alter the landscape of American politics in the 2020 census.
Funders Committee for Civic Participation
Perhaps no project quite illustrates the role NEO Philanthropy plays on the Left better than the Funders Committee for Civic Participation.
For one thing, while it's made up of mega-funders, the Committee doesn't make grants itself. Instead, it's a donors' affinity group—a kind of organizing body for top-tier grantmakers to coordinate spending on election-related activities. In this way, the Funders Committee bears some resemblance to the Democracy Alliance—a Committee member—which also coordinates spending but does not itself make grants to other groups.
The Funders Committee was formed in 1983 and in one sense is the culmination of NEO Philanthropy's efforts to integrate itself into the professional Left—a fact reflected in its membership. The Committee boasts some 90 members, most notably the Open Society Foundations, Ford Foundation, Joyce Foundation, Bauman Family Foundation, the SEIU-owned Amalgamated Bank, National Education Association, and the AFL-CIO. It's headed by Eric Marshall, the former head of election activism for State Voices—a voter mobilization nonprofit—and manager of legal mobilization for the Lawyers Committee for Civil Rights Under Law. He's also a board member for the Ballot Initiative Strategy Center, which tries to leverage the ballot initiative process in states to increase voter turnout.
As such, the Funders Committee is connected to just about every prominent funder on the Left. The Bauman Family Foundation, for example, is headed by Patricia Bauman, a Democratic mega-donor who sat on the boards of Catalist—the Democratic Party's datamine of choice—the Democracy Alliance, and NEO Philanthropy itself. The Democracy Fund, another member, is the foundation of eBay founder and liberal philanthropist Pierre Omidyar; while it attempts to cast itself as bipartisan, the group overwhelmingly funds left-wing causes and liberal Republican groups, including the NeverTrump-led Stand Up Republic.
The philanthropy consulting firm Arabella Advisors is also a Funders Committee member. Curiously, its four "dark money" nonprofits—responsible for springing up over 340 fake activist groups—aren't listed as members.
While the Committee touts its interest in "civic participation," its real interest is in pushing policies which get Democrats elected. The Committee publishes a map to what it calls "Integrated Voter Engagement," a kind of flowchart for how to mobilize "to win effective public policies." Organizing and mobilizing communities leads to registering new voters and "strong leaders" to "hold elected officials accountable"; those officials then "engage and educate the electorate" (note that legislators educate the public on what's best instead of reflecting their will) to promote "get out the vote" efforts, leading to the most important outcome: achieving "policy impact."
The Committee has called its model one of "the most effective ways to increase voter turnout," and little wonder. In 2005, the Funders Committee targeted the Colorado Progressive Coalition for funding and organizing efforts using the Integrated Voter Engagement model.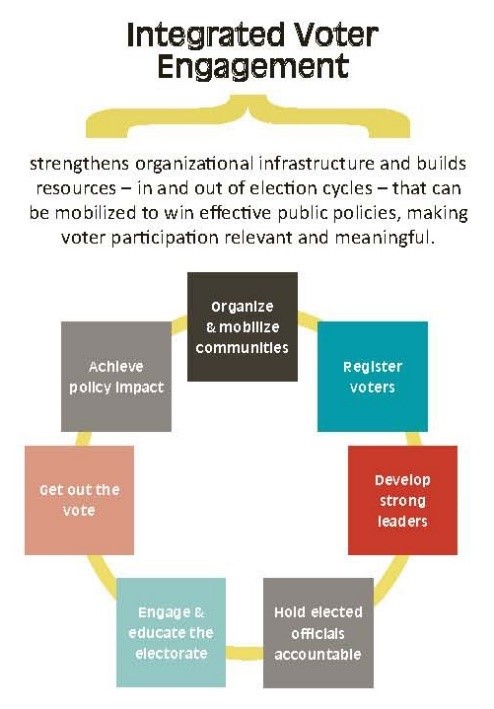 The result was thousands of new voters who helped the Coalition suspend the Colorado Taxpayers Bill of Rights in a referendum, opening the floodgates to greater state spending. The next year the Coalition followed up with a successful ballot initiative campaign to raise the Colorado minimum wage. In 2008, the Coalition struck again, using the Funders Committee model to defeat a ballot initiative barring race- and sex-based affirmative action.
By targeting Colorado, the Left was able to flip a battleground state into a reliably Democratic one—thanks in no small part to systematic efforts by the Democracy Alliance and the Funders Committee.
And the Integrated Voter Engagement model has huge potential for other states. A 2017 report by the Funders Committee claims that allied groups using the model have registered "roughly 4.5 million people . . . over the last three election cycles." Naturally, they're trying to apply the model to battleground states and longstanding Democratic Party targets: North Carolina, Florida, Nevada, Michigan, Ohio, Oregon, and Texas.
But the Funders Committee's biggest target is still a couple years away: the 2020 Census.
The Constitution mandates a census be held every ten years, a process that begins years before the final results are tallied. Few people are aware, though, that 501(c)(3) nonprofits can aid the U.S. Census Bureau in its task of counting how the U.S. population has grown and moved, a critical part of the formula which determines how many congressional seats states are allocated. Most of the time, contention emerges not from counting the population, but over the next step: drawing congressional districts, a process called "redistricting."
But when it comes to deciding whether non-citizens are counted in the census, you can rely on the Left to cry foul. Since the House of Representatives has a fixed number of members (435), counting non-citizens (such as permanent residents living in the U.S.) in the census would lead to the over-allocation of congressional seats to states with large populations of non-citizens—like California, Texas, Nevada, New Jersey, and New York, whose populations were over 10 percent non-citizen in 2017—and under-allocation of states with lower numbers of non-citizens.
Many on the Left have entered the fray with the battle cry, "Count everyone!" It's understandable why. The Democratic Party is increasingly reliant upon huge urban populations to win elections, while groups like the Funders Committee typically count on large turnout among ethnic minorities and newly naturalized immigrants to enact their policies. As the Committee puts it, "It is vital that grant makers get involved. The Census Bureau can't do it alone."
It shouldn't come as a surprise, then, that the Committee's efforts have received hearty praise from leading Democrats. Then-Rep. Keith Ellison (D-MI) delivered the keynote address to the Committee's 2016 convening in St. Paul, Minnesota, held in preparation for the 2020 census. Now-disgraced Sen. Al Franken (D-MN) told viewers how important the census is in "determining how many seats in Congress are allocated" in a video made specifically for the event:
I know you're working hard to make sure that the upcoming 2020 census goes smoothly, and gives a clear, accurate snapshot of our country. I commend your foresight—the census is very important and it's critical for us to get ready now, even though the census is still a few years away.
 The Funders Committee runs operations through the Funders Census Initiative (FCI), a kind of nexus for census-related activities originally launched for the 2010 census. FCI is a major undertaking—it began as early as 2013. In 2016, FCI released its 2020 Action Plan with three key goals: improving response rates, establishing state-based census projects to "mobilize constituencies," and expanding the Committee's "universe of funders."
To that end, FCI counts a number of special interest groups in its ranks, including Van Jones' Color of Change, the American Arab Anti-Discrimination Committee, and National Congress of American Indians. Each of these groups has conducted message testing on minority groups to determine census response rates.
Color of Change, for example, ran messages targeting black communities with the message, "President Trump has actively worked to put down the Black vote and reduce outreach to Black communities for healthcare enrollment, and he will do the same when it comes to Black people taking part in the Census."
Interestingly, the Bauman Family Foundation appears to play a lead role in FCI's activities, including the Committee's efforts to counteract the Trump administration's proposed citizenship question in 2020. In March 2018, Secretary of Commerce Wilbur Ross announced that the U.S. Census Bureau would ask respondents if they were U.S. citizens in the 2020 census, immediately sparking furor from the Left. The Center for American Progress accused the Trump administration of attempting to "rig the census for partisan political benefit," claiming the question would scare recipients into not responding.
Conservative groups like the Heritage Foundation called the citizenship question "essential for accurate U.S. census" results. (A question regarding the respondent's citizenship status was a standard part of the census until 2010, though generally asked of roughly six out of ten recipients.)
In response to Wilbur's announcement, the Funders Committee launched an "emergency briefing" led by the Bauman Family Foundation and three interest groups: Leadership Conference on Civil and Human Rights, National Association of Latino Elected and Appointed Officials (NALEO), and Asian Americans Advancing Justice.
In August, over 300 grantmakers (among them numerous Funders Committee members) signed a letter to the Commerce Department urging it to withdraw the citizenship question (Bauman executive director Garry Bass was listed as the letter's contact). While the Funders Committee itself was not a signatory (NEO Philanthropy was), the group published letter templates for other groups to sign and send to the Commerce Department.
The Funders Committee's next convening is scheduled for November 2019 in Detroit, Michigan. A glance at its planning committee gives a sense of who's likely to attend: present are representatives from the Annie E. Casey Foundation, Rockefeller Family Fund, Educational Foundation of America, Kresge Foundation, Open Society Foundations, Piper Fund, Latino Community Foundation, Democracy Fund, and Northwest Health Foundation.
Other NEO Funds
NEO Philanthropy also manages a handful of smaller funds in conjunction with major grantmaking foundations. The funds are typically vague about specific goals, mentioning only their interest in bolstering human rights and promoting democratic values; most support left-wing policies in various fields, however.
The U.S. Human Rights Fund is organized around the passage of the End Racial Profiling Act, perennial legislation proposed regularly by congressional Democrats which would "prohibit federal, state, and local law enforcement from targeting a person based on actual or perceived race, ethnicity, national origin, religion, gender, gender identity, or sexual orientation," according to the left-wing Human Rights Campaign's definition. (The most recent iteration of the bill was proposed in February 2017 by Maryland Sen. Ben Cardin and accused President Trump of "targeting Muslim refugees and travelers" for discrimination.) The U.S. Human Rights Fund also funds community organizing groups which support left-wing criminal justice reform, increased immigration to the U.S., and increases to local minimum wages.
The Anti-Trafficking Fund was created with funding from the Oak Foundation, a Swiss-based foundation that generally supports environmentalist causes, including "climate change litigation" efforts against ExxonMobil and other oil and natural gas producers in Canada. The Anti-Trafficking Fund makes grants to 13 left-wing activist groups generally organized around labor and immigration, including Jobs With Justice, the National Domestic Workers Alliance, the Urban Justice Center, Human Trafficking Legal Center, and Centro de los Derechos Del Migrante ("Center for Migrant Rights").
The National Domestic Workers Alliance is a labor union-aligned group that, among other things, advocates for expanded immigration and policies favoring illegal immigrants in the country. The group is heavily funded by the SEIU and AFSCME as well as the Ford, Open Society, Nathan Cummings, and Marguerite Casey Foundations.
The Center for Migrant Rights provides legal aid to Mexican migrant workers in the United States. The group also supports the 2018 United Nations Global Compact on Migration, a non-binding compact which promotes mass international migration. Notably, the group attempted to involve itself in President Trump's NAFTA renegotiations with Canada and Mexico in order "to protect migrant workers" in the U.S.
The Asian American and Pacific Islander Civic Engagement Fund pushes voter registration and mobilization efforts among the Asian American and Pacific Islander (AAPI) census bloc, a target of many similar groups on the Left. Part of the Fund's efforts involve reshaping the AAPI bloc—a generally wealthy, highly educated, and entrepreneurial demographic—to assume a victim mentality as a "community of color and predominantly immigrant and refugee population," as the Fund puts it.
The Fund is supported by the Carnegie Corporation, Evelyn and Walter Haas Jr. Fund, and Wallace H. Coulter Foundation; its steering committee represents the Ford, Surdna, and Kellogg Foundations as well as the vice president of Demos, Jodeen Olguin-Tayler, and EunSook Lee, president of the National Immigration Forum Action Fund.
The Faces Behind the Mask
NEO Philanthropy's leadership reflects the group's many ties to prominent funders on the Left.
Michele Lord is president of NEO and NEO Philanthropy Action Fund, a position she assumed in 2015 after the departure of her co-president Berta Colón. Lord also directs the Ottinger Foundation, a small foundation associated with Larry Ottinger, a former lawyer with People for the American Way and ex-president of the left-leaning Center for Lobbying in the Public Interest.
Lord has a long history in liberal philanthropy and Democratic politics. She previously directed the modest Norman Foundation and has worked in various program capacities for the Rockefeller, Ford, and Open Society Foundations. From 1984 to 1988, Lord was director of the Congressional Caucus on Women's Issues; she later worked in the New York City Mayor's Office from 1990 to 1993 under then-Mayor David Dinkins (D).
Lord's former co-president, Berta Colón, held her position from 2002 to 2015, when she left to become deputy director of El Museo del Barrio, a Latino cultural museum in New York City. After an odd turn of events, she was fired from her position after less than a year on the job for "performance reasons" apparently related to the museum's $800,000 deficit (though specific reasons remain unclear).
NEO's board of directors is headed by John Gilroy, director of Pew Charitable Trusts' U.S. Public Lands program. Interestingly, Gilroy is a former campaign hand for the New York Public Interest Research Group—Donald Ross's old outfit—and worked under Ross from 1980 to the latter's departure in 1984.
NEO's remaining board members reflect its position among the Left's major grantmakers. Christopher Meyer is chief of staff for the Rockefeller Foundation project 100 Resilient Cities, which funnels money to climate change causes. Glenn Harris is president of Race Forward (formerly Applied Research Center), a "racial justice" think tank.
Cathy Albisa is co-founder of the National Economic and Social Rights Initiative, which directs grants to left-wing policy coalitions. Kristen Ruff is senior vice president of member services for Philanthropy New York, a regional grantmaker association.
Darren Sandow is executive director of the Hagedorn Foundation, a NEO Philanthropy donor which primarily supports immigration and voter registration nonprofits. Kerrien Suarez is director of Equity in the Center, a project of ProInspire, a group that provides leadership training services to left-wing nonprofits.
Christina Schatz is a financial adviser. Sean Thomas-Breitfield co-director of the Building Movement Project, which publishes reports on the state of the Left's nonprofits, including representation of women and minorities in leadership positions. Also present on NEO's board is Ben Wyskida, chief executive officer of Fenton Communications, a public affairs firm that caters to left-wing clients, such as Greenpeace.
Wrapping Up
NEO Philanthropy plays a peculiar role in the institutional Left. Unlike other "dark money" funders—such as the nonprofit empire managed by Arabella Advisors or the incubation apparatus created by the Tides Foundation—NEO Philanthropy operates as a great "unseen hand," moving vast sums of money to the activist groups of its choice.
It's this pass-through model which makes NEO Philanthropy so effective and valuable to the Left's largest grantmakers, who may effectively "wash" direct ties to activist groups by funneling money through NEO. Through its major funds and the Funders Committee for Civic Participation, NEO Philanthropy hopes to shape the field of American political activism and even the outcome of the 2020 census.
All of this confirms NEO Philanthropy's position as the Left's "dark money" coordinator of choice, a position it's likely to hold for years to come.