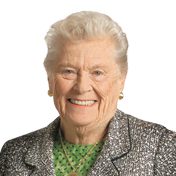 Philanthropist Marion G. Wells of Fort Lauderdale, Florida, died this past October 30, at the age of 90. At the urging of board member Edwin Meese III in 2015, Mrs. Wells became the Capital Research Center's first-ever Trustee Emerita after 21 years of service on the board. She was very dedicated to her duties as a trustee and for years continued to participate in board meetings by telephone, even as her health declined.
An ardent conservative and high-profile philanthropist, she and her late husband, Preston "Dick" Wells, served on numerous charitable boards. Mrs. Wells alone was on the boards of the Heritage Foundation and the Intercollegiate Studies Institute, for example. She also served as an advisor to several civic organizations, including Exuma Cays Land and Sea Park, the Cleveland Clinic of Florida, and the Orleans Chateau and Villas.
Mr. Wells, a longtime Heritage trustee, died in 2003. Mrs. Wells' son John J. Flemm will continue to run the Marion G. Wells Foundation.