[Editor's Note: This piece continues CRC's original reporting on Protect Our Care, the "dark money" group propping up Obamacare.]
With Obamacare recently pronounced unconstitutional by a federal judge and enrollment numbers down for another year, former President Obama's signature legislative achievement appears to be running out of steam. But the law may soon get a shot to the arm, if the professional Left gets its way.
Among the myriad groups trying to prop up the drooping healthcare law is Get America Covered, a coalition formed in late 2017 in Washington, D.C. by two Obama administration alumni, Lori Lodes and Josh Peck, both of whom served in the Centers for Medicare & Medicaid Services.
Their activist credentials are impressive. In 2016, Lodes served as chief of staff for communications in Hillary Clinton's presidential campaign; prior to that, she was a senior vice president for the Center for American Progress (CAP) and its advocacy arm, CAP Action, as well as deputy communications director for the Services Employees International Union (SEIU). From 2016 to 2017, Peck had the unfortunate position of chief marketing officer for HealthCare.gov, the Obamacare sign-up website launched in October 2013 with so many technical issues it earned the nickname "Nightmare.gov." Peck also worked for the Democratic National Committee and Obama's 2008 campaign, and he runs his own consultancy—For Good Strategies—which has advised left-wing groups like Planned Parenthood, NARAL, and the Citizen Engagement Laboratory.
A search for Get America Covered will reveal a lot about what Lodes and Peck want to advertise—that they're former Obama administration officials pushing Obamacare enrollment prior to the annual cutoff date of December 15, and that their national co-chair list reads like a grab bag of (mostly) glamor activists: Democratic operative Van Jones, Bipartisan Policy Center senior adviser Andy Slavitt, former insurance CEO Mario Molina, and actors Alyssa Milano and Bradley Whitford (of The West Wing TV show). But other than a video of Barack Obama urging people to sign up for Obamacare and a few links to HealthCare.gov, Get America Covered hasn't produced much . . . at least under its own name.
Digging reveals the close connection between Get America Covered and another pro-Obamacare group, the Coverage Coalition, an anti-Trump group that has accused the President of trying "to deny healthcare to millions of Americans." The Coverage Coalition doesn't provide much detail about who runs it beyond connections to Barton F. Graf, a media production firm; but the Coalition claims that it's a "non-political project" aimed at "tell[ing] people about healthcare enrollment."
Curiously, Get America Covered was listed among the Coverage Coalition's partners in October 2017; it's since been scrubbed. Nevertheless, the source code in the Coalition's website shows that the Coverage Coalition was "made in association with Get America Covered."
The firm Barton F. Graf even won an award earlier this year for the anti-Trump attack advertisements it created for the Coverage Coalition . . . on behalf of Get America Covered.
This kind of obfuscation seems to be Get America Covered's preferred modus operandi. For a group whose "focus is really going to be on the facts that people need to know to get signed up it," according to Lodes, it sure goes to lengths to cover its tracks.
So why is it so hard to find any concrete details about Get America Covered, anyway—like who funds it?
Although Get America Covered was founded relatively recently and likely has not filed its annual Form 990 tax returns, it doesn't appear in registries with the IRS or the District of Columbia. And while it's not unusual for well-funded niche nonprofits to not feature a donate page on their websites, a glance at GetAmericaCovered.org from November 1, 2017 reveals a "Donate" button that has since been deleted as well as a privacy policy that can no longer be accessed. The former linked to the group's page on the website of ActBlue, a major fundraising platform for liberal nonprofits. ActBlue's website reports that it no longer fundraises for Get America Covered, but the webpage's source code suggests the organization used ActBlue Charities, the arm that services tax-deductible 501(c)(3) nonprofits.
These aren't the only details which suggest that Get America Covered may be operating under the sponsorship of a much larger left-wing nonprofit, either.
According to her LinkedIn profile, Lori Lodes has served as campaign manager for Protect Our Care—a likeminded organization recently exposed by CRC as part of the Sixteen Thirty Fund, a 501(c)(4) mega-funder infamous for hosting numerous "Potemkin village" websites designed to look like single-issue grassroots organizations, most of which do not solicit donations. Sixteen Thirty Fund, in turn, is operated by agents from the influential left-wing consultancy Arabella Advisors, which maintains a 501(c)(3) "sister" group called the Hopewell Fund that hosts similar front groups.
While this convoluted arrangement can—with serious legal coordination—be structured in a way that complies with nonprofit guidelines, any right-of-center network that shared similar characteristics would almost certainly be hypocritically decried as a "dark money" group.
A web search reveals a webpage on the fundraising platform DonationPay.org entitled "Get America Covered | Hopewell Fund." Although that page no longer exists, the WayBack Machine shows that it was live in January 2018, while the donee group listed in the page's source code implies it is sponsored by the Hopewell Fund.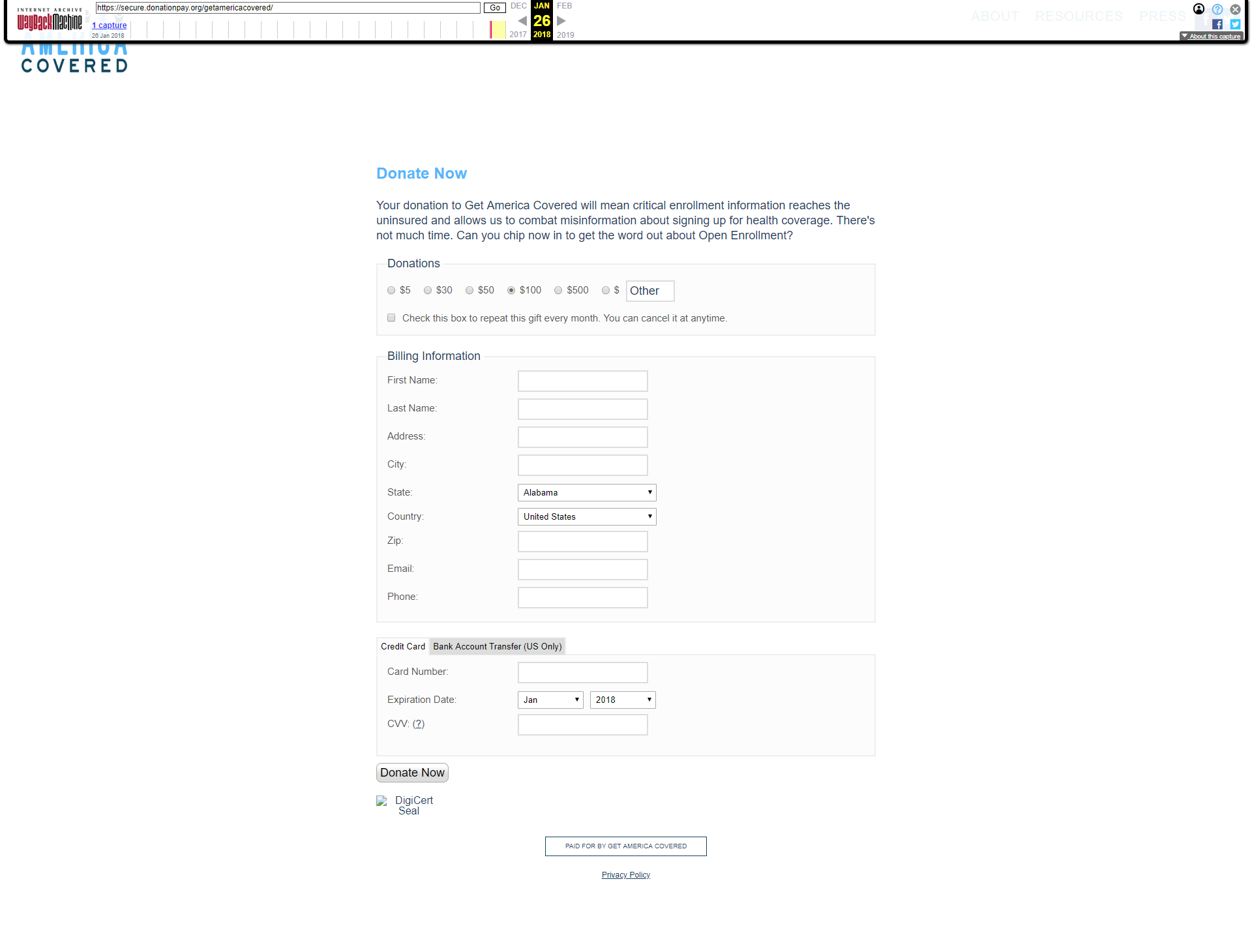 For reference, another webpage on DonationPay.org—this one live—entitled "Armada | Hopewell Fund" shows the same pattern: no reference to the Hopewell Fund on the page, but the same donee group relationship to the Fund listed in the source code.
Is Get America Covered just another front for Arabella Advisors? At this point, that's hard to say. But it's clear from the group's connections and efforts to cover its trail that Get America Covered has a much larger agenda than simply giving people the "facts" about Obamacare.