Nearly $10 million flowed from one of the Left's most secretive "dark money" funders to one of its top activist empires in 2019, fueling campaigns ranging from radical racist groups that paint America's founding as racist to efforts to warp 2020 Census results to favor Democrats.
Despite raking in some $300 million in 2019 alone, Wellspring Philanthropic Fund is one of the least-known funders of left-wing causes. That's by design. The group's founders—hedge fund managers Andrew Schechtel, C. Frederick Taylor, and the late David Gelbaum—have moved close to $1.8 billion through Wellspring since its founding in 2001. Most of that money has funded grants to left-wing causes.
I've documented Wellspring's shrouded origins here and how Schechtel et al. established multiple holding companies to pass huge sums to their foundation, which distributed most of that money to other pass-through funders. It's an elaborate scheme designed to obscure the donors' identities from public scrutiny—something the IRS requires of foundations—as well as which politically active groups Wellspring supports.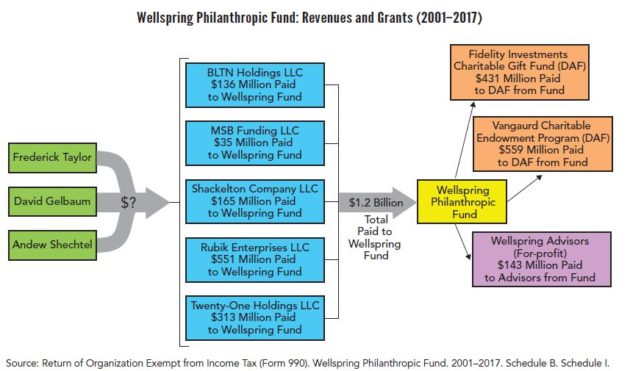 Interestingly, after CRC exposed this sophisticated obfuscation in 2019, Wellspring changed tactics. To its credit, the group now reports grants directly instead of using pass-throughs, enabling us to see just how much it funnels to the professional Left.
The Arabella Network
One of the standouts is the New Venture Fund (NVF), the flagship of a $731-million nonprofit empire run from the offices of Arabella Advisors, a consultancy in Washington, DC. We were the first to expose Arabella's unique approach to hijacking nonprofits to aid leftist causes and have spent years unearthing its secretive operations. Here's how it works.
Donors and foundations approach the for-profit Arabella Advisors about funding a political project they don't wish to be publicly associated with. They're directed to send the funds in a grant to one of the company's four in-house, tax-exempt nonprofits—what we call the "sisters"—to buy slick advertisements, websites, and "pop-up" lobbying campaigns that cannot be traced back to the original donor.
The sisters are legally independent entities, protecting Arabella and its allies from the public's attention. Behind the legal facade, they're led by Arabella officers and even pay "consulting fees" to the company for use of its office space and staffers to run the network's numerous project. We've identified at least 350 such "pop-up" campaigns, with more appearing each month.
In 2019 alone, Wellspring paid NVF $9,481,750 across 22 grants, each earmarked for a different Arabella project. We've highlighted some of the best below.
Meddling in Elections
The Center for Secure and Modern Elections received $1 million from Wellspring to advocate for sweeping changes to U.S. election law, including automatic voter registration, expanding mail-in voting, and looser penalties for falsifying voter registration applications.
The center was also tangled up in helping another elections group, the Center for Tech and Civic Life (CTCL), distribute $350 million from Facebook founder Mark Zuckerberg to local elections offices in 2020. We discovered the group's influence in Louisiana, where it solicited at least 13 parishes with offers of CTCL money, acting as a mediator for a billionaire-backed group intent on privately funding elections.
Warping the 2020 Census
The year 2019 was important for groups funding 2020 Census turnout. Every 10 years, the Constitution requires the government conduct a census to determine population changes, the first step in determining how many congressional seats each state receives. The 2020 Census sets the stage for the 2021–22 redistricting process—when those seats' boundaries will be redrawn. Redistricting is a critical step for determining party advantage for the next decade.
Naturally, NVF ran a "2020 Census Project," which received $453,000 from Wellspring. Little is known about the project's activities, but we've discovered numerous foundations and activists focused on filling out as many census forms as possible in Democratic states like California in order to minimize the loss of congressional seats to largely Republican states like Florida and Texas.
A Democratic Supermajority
Wellspring gave $250,000 to NVF's Supermajority Education Fund, a feminist advocacy group that aims to promote a Democratic supermajority in Congress by pumping up female voter turnout. The group was founded by a host of women from professional leftist groups, including former Planned Parenthood president Cecile Richards and Black Lives Matter co-founder Alicia Garza.
Obamacare Forever
Then there's the $800,000 Wellspring gave to NVF to fund Health Care for America Now (HCAN) Education Fund, the coalition responsible for pressuring Democrats to pass Obamacare in 2010. This version of HCAN is actually a zombie version of the original group, which went out of existence after President Barack Obama signed his signature health care bill. But Arabella revived HCAN in recent years to attack the 2017 tax cuts bill and promote Medicare for All, moving the country closer to a single-payer health care system.
Hopewell Fund
Wellspring gave another $398,000 to the Hopewell Fund, one of NVF's sister nonprofits, to fund two projects: Liberation in a Generation, a radical group that aims to "dismantle" America's "oppression economy" operating on "theft, exclusion, and exploitation" of non-whites, and Over Zero, which studies the psychology of "hate" and "negative emotions" toward ethnic and religious minorities.
More to Come
These grants are the tip of the iceberg for a group that routinely donates hundreds of millions of dollars to activists, think tanks, and lobbying groups. In future articles, we'll bring more of it to light.