There's a war on conservativism, but it's not coming from the Left.
Whether it's the Soros-funded Niskanen Center, Citizens' Climate Lobby, or the Center for Responsible Energy Solutions, the goal is the same: push the Left's global warming agenda on conservatives—and label it "free market." But when it comes to their funding, these eco-cons have one message: Pay no attention to that man behind the curtain!
Take the Climate Leadership Council (CLC), perhaps the most well-positioned group on the eco-Right to pressure conservatives into supporting an economy-crushing carbon tax. The group is built around a proposal by two venerable Republicans—James Baker and George Shultz, both former Secretaries of State in the Reagan administration—introduced a 2017 Wall Street Journal op-ed that called for a $40 tax on every ton of greenhouse gases (mostly carbon dioxide) produced nationwide.
Such a policy, Messrs. Baker and Schulz assure us, could both benefit the economy and "spur larger reductions in greenhouse-gas emissions than all of President Obama's climate policies." Conservatives ought to support the plan because it's "revenue-neutral."
The plan was rightly criticized by conservatives in National Review and PJ Media, as well as liberals who spied a scheme by "Big Oil" to draw up favorable regulations for themselves (as if Big Business has never supported favorable regulations).
Never mind that Canada's carbon tax, sold to the public in 2017 as "revenue-neutral," is already costing our northern neighbors as much as $1.7 billion each year at rates similar to that proposed in the Baker-Shultz scheme.
Or that in 2018 the Republican-held House of Representatives passed a resolution condemning carbon taxes as "not in the best interest of the United States."
Yet just as flimsy as the idea of a "revenue-neutral" carbon tax are the efforts to paint eco-cons as a rising force in the Republican Party. Even with leading language hinting at the answer it wants ("How concerned are you that the current Republican position on climate change is hurting the party with younger voters?"), CLC's own recent polling shows that even scare tactics can't muster any interest whatsoever from a third of self-identified Republicans. In fact, far from proving their point, CLC's polling shows that fully 71 percent of Republicans just aren't that concerned about Millennials' view of the Earth's ever-changing climate.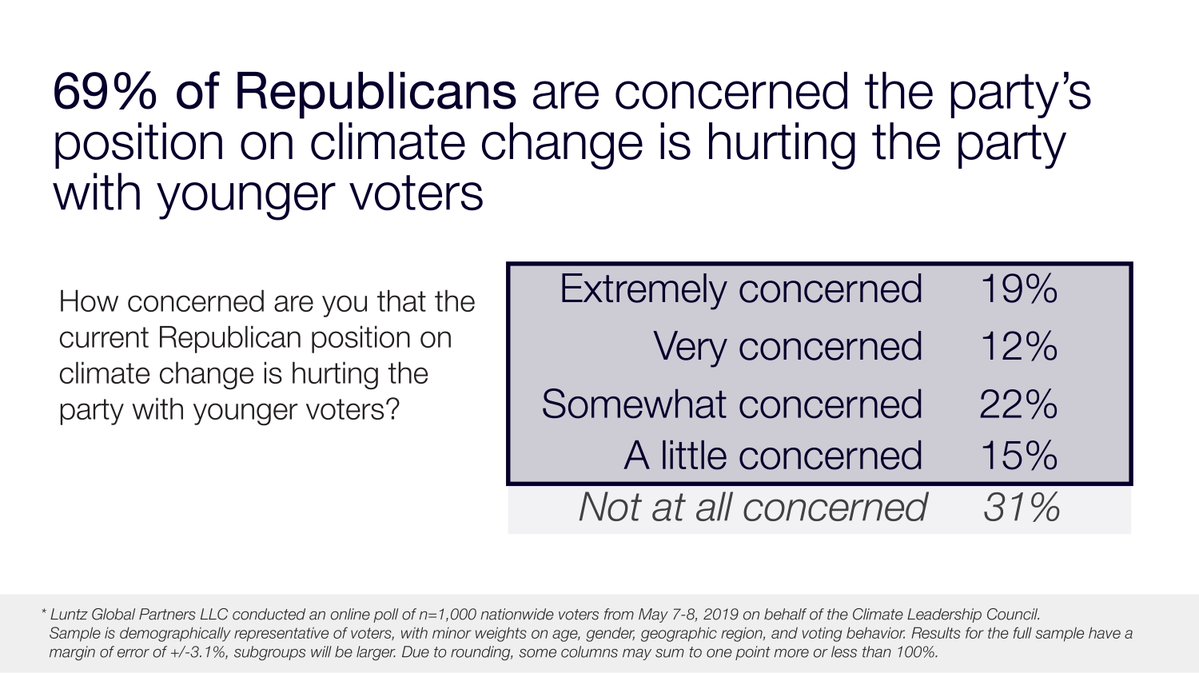 So who's backing CLC's infiltration of the Right?
Recent filings show that the group brought in a whopping $4.2 million in its first year of operation (2017). And while CLC isn't required by the IRS to disclose its donors, other filings reveal that nearly $1.4 million of its funding came from a handful of left-wing foundations:
Interestingly, the $500,000 CLC received via Goldman Sachs' donor-advised fund was earmarked for "promoting a carbon dividend," part of CLC's carbon tax plan. Because the money moved through a donor-advised fund, the original donor can't be identified.
But more impressive is the enormous $4.5 million promised to the carbon tax group by Arnold Ventures—the for-profit extension of the Laura and John Arnold Foundation, a left-wing mega-funder (not to be confused with the Arnhold Foundation).
While it wouldn't be fair to blame CLC for the Arnold Foundation's other grants—namely to Planned Parenthood, the Niskanen Center, and the anti-Electoral College lobby FairVote—shouldn't conservatives know that a supposedly "free market" group is bankrolled by leftists?
Interestingly, both the McCaw and Germeshausen Foundations are tied to CLC's board of directors. The former is the personal philanthropy of CLC board member Craig McCaw, former chair of The Nature Conservancy and a Hoover Institution board member (The Nature Conservancy is a "founding member" of CLC). CLC board member Martin Kaplan, former chair of the Massachusetts Board of Education under Gov. Bill Weld, was a Germeshausen Foundation trustee from the 1980s until approximately 2014, according to an archived version of the foundation's webpage.
(Also worth noting is CLC board member Bob Litterman, an investment adviser, carbon tax hawk, and Niskanen Center board member whose personal foundation has donated at least $100,000 to Niskanen.)
When a so-called conservative idea is funded largely by left-wing funders, it's fair to question whether it's really conservative.