No Safe Spaces will simulcast live on www.NoSafeSpaces.com, YouTube, and Facebook at 8:00 p.m. EST today, Thursday, September 17—Constitution Day.
Dave Rubin of The Rubin Report will host the event, joined by No Safe Spaces co-stars Dennis Prager, Adam Carolla, Ben Shapiro, and others, who will share an in-depth analysis of the current anti-free speech "cancel culture" phenomenon. "Cancel culture has made America uglier and less interesting. It's time to cancel it," adds Ben Shapiro.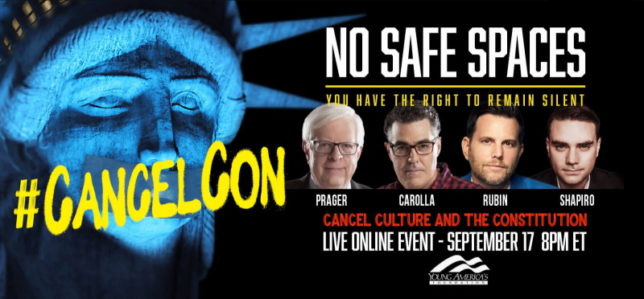 "If we lose the right to free speech, we lose everything," noted Young America's Foundation President Ron Robinson. "YAF has stood up for and defended the First Amendment on and off campus throughout our 60-year history. We are thrilled to partner with No Safe Spaces to shed more light on this important issue." Young America's Foundation (YAF) is co-sponsoring this free event.
No Safe Spaces was 2019's biggest political documentary at the box office, earning $1.3 million, and was the highest-rated film of 2019 as ranked by the Rotten Tomatoes audience score.
Note: If you have trouble viewing #CancelCon on Facebook Live, please try www.NoSafeSpaces.com or YouTube. Facebook appears to be actively hostile to the film's advertisements, as reported by Newsweek.