The Big Foundations Behind Pennsylvania's "Green" Activists (full series)
Pennsylvania's Big Funders | PennFuture
PEC and PennEnvironment | Pennsylvanians Against Fracking
Meet the Activists: Pennsylvanians Against Fracking
Pennsylvanians Against Fracking is a front for the far-left Food and Water Watch (FWW), one of the country's leading anti-fracking groups. FWW zealously opposes all forms of carbon-based fuels. Its website states that "we must end fossil fuels" and "a national ban on fracking is key." FWW practices a kind of environmental fundamentalism, warring on "fake climate solutions" put forward by Democratic politicians and corporations who pay lip service to global warming. Most recently, the group attacked California Gov. Gavin Newsom (D), a leftist luminary, for supposedly shilling for Big Oil because his executive order banning future sales of gasoline-burning cars by 2035 didn't go far enough.
This sometimes has the amusing effect of putting FWW at odds with the larger environmental activist movement, with the group calling cap-and-trade a "drastic and ineffective" "scheme" for putting a price on carbon that's "ultimately paid by consumers." FWW has pressured Biden to "keep his public lands fracking ban promise," issuing a March 2021 press release noting that "On the campaign trail, Joe Biden was crystal clear about ending fracking on public lands." This clashes with repeated reassurances from many on the professional Left and the media that the Biden administration isn't interested in banning fracking on federally owned lands and Biden's own campaign promises that he wouldn't push for such a policy.
Naturally, Pennsylvanians Against Fracking (PAF) has goals that are just as radical as the national organization: a ban on all new oil and gas wells and a statewide moratorium on fracking.
It accomplished the first goal in 2015, when the newly elected Gov. Wolf banned new oil and gas leases on state-owned lands almost immediately after taking office in January. Wolf has so far resisted issuing a moratorium on fracking despite protests from PAF and FWW. A spokesman for his 2014 campaign said that Wolf opposes a blanket fracking ban, but in 2019 he announced that he supported a complete fracking ban in the Delaware River basin. That ban was imposed in February 2021 by the Delaware River Basin Commission, which oversees the watershed and whose commissioners include the governors of New York, New Jersey, Pennsylvania, and Delaware.
Because PAF isn't a standalone nonprofit but a website owned and operated by FWW, it doesn't file its own IRS Form 990 report. Donations to the group are directed toward its parent and individual donors are impossible to identify, although a number of major grantors to FWW have been identified. Among them is Heinz Endowments, which isn't a major donor to FWW but granted it $160,000 in 2019 "to strengthen community protections from shale development." FWW's top donors over the last two decades include: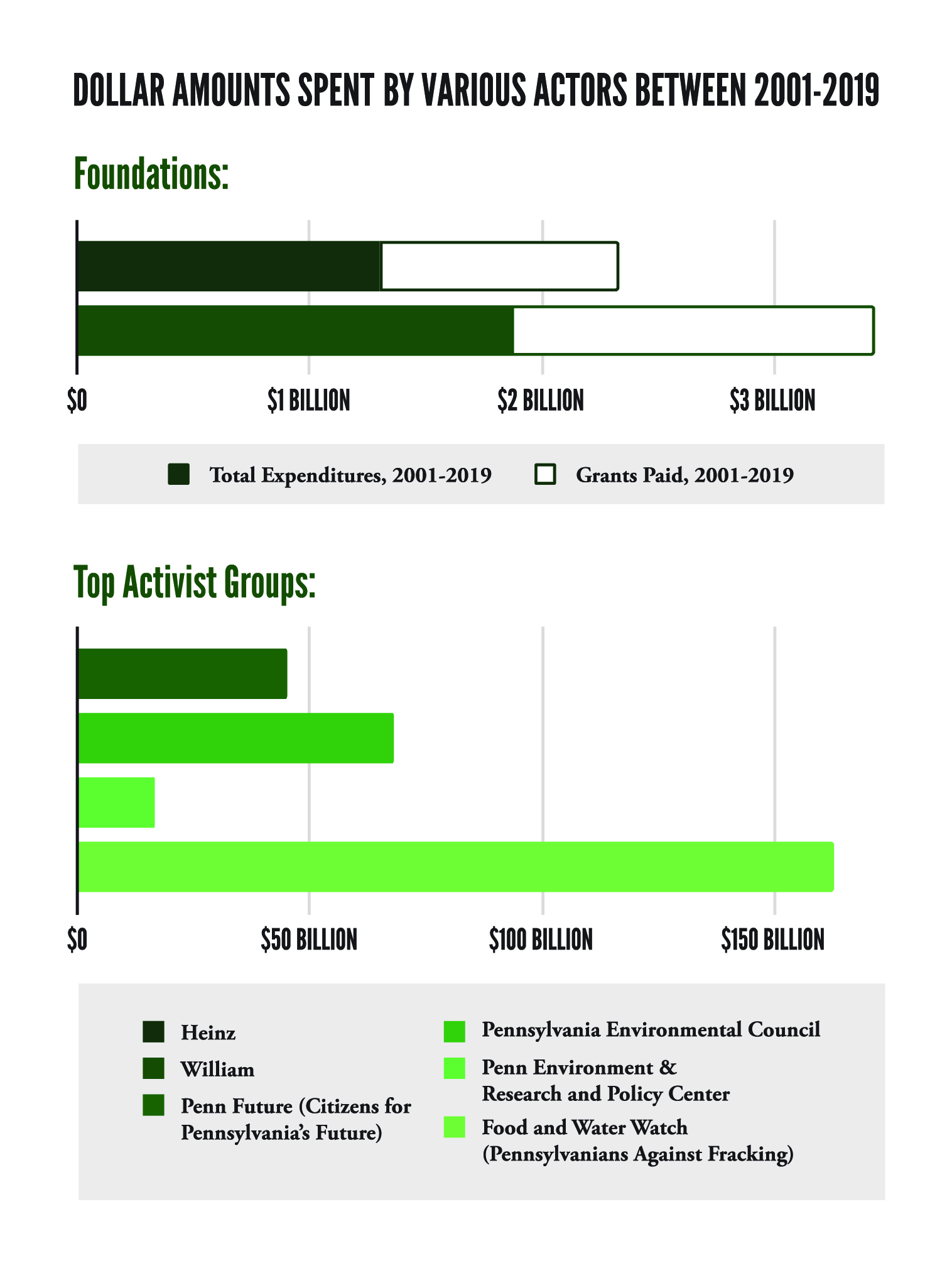 No Shortage of Smaller Groups
The dozens of smaller eco-activist groups riddling Pennsylvania deserve mention, especially since nearly all of them are funded by Heinz Endowments.
The Pennsylvania Environmental Defense Foundation is a tiny litigation nonprofit (2019 revenues: $29,000) that irregularly engages in lawsuits on groundwater pollution, erosion damage, and chemical runoff. In 2017 it sued the Wolf administration alleging that $61 million of the state appropriations bill for the year derived from gas revenues are unconstitutional.
The Center for Coalfield Justice (2019 revenues: $919,000) is a far-left group in southwestern Pennsylvania that seeks a ban on fracking and coal ash disposal sites, a niche issue pursued by a handful of national litigation groups including Earthjustice, a Sierra Club spin-off. The center has received over $1.5 million Heinz Endowments since 2002, including an $80,000 grant in 2019, making Heinz its top identified donor. The Colcom Foundation has gifted the center at least $375,000 since 2008.
The Keystone Energy Efficiency Alliance (2018 revenues: $160,000) is a left-leaning pro-RGGI group associated with the Energy Efficiency Alliance, a northeastern 501(c)(6) trade association that represents renewables companies, construction firms, appliance manufacturers, and the leftist Natural Resources Defense Council (NRDC). The association received $50,000 from Heinz Endowments in 2019 "to support clean energy education and advocacy in western Pennsylvania."
The Foundation for Pennsylvania Watersheds (2019 revenues: $1.4 million), despite its name, is a pass-through 501(c)(3) public charity that supports environmentalist groups and counties in western Pennsylvania. Much of its funding goes to research into clean water initiatives, but it also pushes renewables. For example, Heinz Endowments gave the foundation a $215,000 grant in 2019 to "to improve water quality, restore communities, and promote a just transition in western Pennsylvania." In total, Heinz has given the group at least $3.1 million since 2007. It has also funded by the Richard King Mellon Foundation ($4.3 million since 2007), Colcom Foundation ($1.2 million since 2013), and William Penn Foundation ($815,000 since 2010).
FracTracker Alliance is an anti-fracking group that originated as a website (FracTracker.org) run by the University of Pittsburgh from 2010 to 2012. While not an activist group per se, FracTracker provides research and maps of drilling operations across the country for use by other left-wing groups. The original project was heavily financed by Heinz Endowments, which gifted it at least $564,000 through two pass-throughs: the Community Foundation of Greater Johnstown and the Foundation for Pennsylvania Watersheds.
After FracTracker became a standalone 501(c)(3) nonprofit in 2012, Heinz continued to fund the group, gifting it at least $1.4 million between 2014 and 2019. Other donors since 2012 include the Colcom Foundation ($108,000) and Schmidt Family Foundation ($400,000), the personal philanthropy of former Google chairman Eric Schmidt.
Left-leaning foundations outside Pennsylvania clearly understand how critical the commonwealth is to the oil and gas industry, which explains why they are funding climate change initiatives in the Keystone State that would curtail development of the Marcellus Shale where hydraulic fracturing exercises are now in operation. The Energy Foundation, a San Francisco–based grant maker, stands out as a key player, donating $78,000 to Citizens for Pennsylvania's Future in 2008 and $75,000 in 2009—all in the name of climate change. That's just a small part of the whole. The Energy Foundation also donated $355,000 to Citizens for Pennsylvania's Future in 2017, $60,000 in 2012, and $43,000 in 2009 for "Public Engagement." The Energy Foundation has also donated hundreds of thousands of dollars to Citizens to for Pennsylvania's Future on behalf of "renewables."
The other foundation from outside of the state that deserves attention is the Park Foundation based in Ithaca, New York, which gained notoriety funding the propaganda film Gasland targeting natural gas development. Since 2009, the Park Foundation has donated tens of thousands to organizations opposed to fracking in Pennsylvania that include Fractracker Alliance, the Delaware Riverkeeper Network, the Clean Air Council, the Community Foundation for the Alleghenies, the Pittsburgh Community Broadcasting Corporation. The Park Foundation has also donated $62,000 to the Society of Environmental Journalists between 2008 and 2012.
A "Green" Agenda
Few networks are more coordinated than the environmentalist movement. With major funders able to provide a virtually unlimited well of money, these groups are pushing an increasingly radical agenda on Pennsylvania and the country.