The Big Foundations Behind Pennsylvania's "Green" Activists (full series)
Pennsylvania's Big Funders | PennFuture
PEC and PennEnvironment | Pennsylvanians Against Fracking
Meet the Activists: PennFuture
PennFuture and Conservation Voters of Pennsylvania form a 501(c)(3)-501(c)(4) pair of activist nonprofits that aim to totally wipe out the state's reliance on coal, natural gas, and oil, which it refers to as "dirty fuels."
PennFuture (formerly Citizens for Pennsylvania's Future) focuses primarily on litigation. The group's website lists dozens of past lawsuits conducted with other activist-litigation groups such as Clean Air Council, Earthjustice, and the Sierra Club. One such lawsuit filed in June 2020 targeted Trump administration Environmental Protection Agency (EPA) administrator Andrew Wheeler, accusing the agency of "improperly regulating coke ovens" involved in steel production under the Clean Air Act. Past PennFuture lawsuits targeted coal-burning power plants, coal mines, and natural gas wells in Pennsylvania.
According to its latest IRS Form 990 filing, PennFuture's priorities ultimately include implementing "carbon pricing policies," referring to either a carbon tax or cap-and-trade system such as that imposed by RGGI. Either would devastate Pennsylvania, needlessly sacrificing the state's powerful energy independence and jacking up electricity costs, which would be felt across the economy as skyrocketing grocery bills and gasoline prices—all to pursue a destructive ideology. So who's funding this "green" campaign to impoverish Pennsylvanians?
PennFuture, the 501(c)(3) arm, has received at least $15 million from Heinz Endowments since 2000, including $375,000 in 2019 alone. Since 2000, it has received another $10.6 million from the William Penn Foundation. Many of the grant descriptions indicate "green" advocacy:
"For the Mid-Atlantic renewable energy campaign"

"To provide professional media training and support for Western Pennsylvania public interest organizations"

"To support the creation of a comprehensive solar energy program in Allegheny county"

"To provide legal support for citizens seeking to protect public health and safety and the environment in their communities"

"For support of the Western Pennsylvania Environmental Communications Resource Center and campaign for land use and sustainable transportation in southwestern Pennsylvania"

"To reduce impact of natural gas development on public health and environment and to promote Pennsylvania's shift to renewable energy" [emphasis added]
PennFuture's 501(c)(4) advocacy affiliate, Conservation Voters of Pennsylvania, (CVP) is also the state affiliate of the left-wing League of Conservation Voters (LCV), which the left-leaning Center for Public Integrity has called a "dark money heavyweight."
Like the LCV, CVP supports politicians running for office who advocate for left-wing energy policies—which in practice means Democrats. The LCV political action committee (PAC), for instance, spent roughly $910,000 in the 2020 election, 98.69 percent of which went to Democrats. Of the remainder, 0.23 percent ($2,125) went to a single Republican: Rep. Brian Fitzpatrick (PA-01), who supports liberal environmental policies including a national carbon tax.
CVP's super PAC spent close to $856,000 in independent expenditures in 2020, outside spending in support of candidates that isn't coordinated with that candidate's campaign. In October 2020, the group's executive director bragged that CVP aimed to flip 22 Republican-held state legislative districts, half of them outside of Philadelphia in what it called the "largest state electoral campaign by environmental group[s] in Commonwealth history."
In fact, the group spent money in 25 districts, including the state's attorney general race. Using data provided by the Pennsylvania Secretary of State, we traced CVP's "success":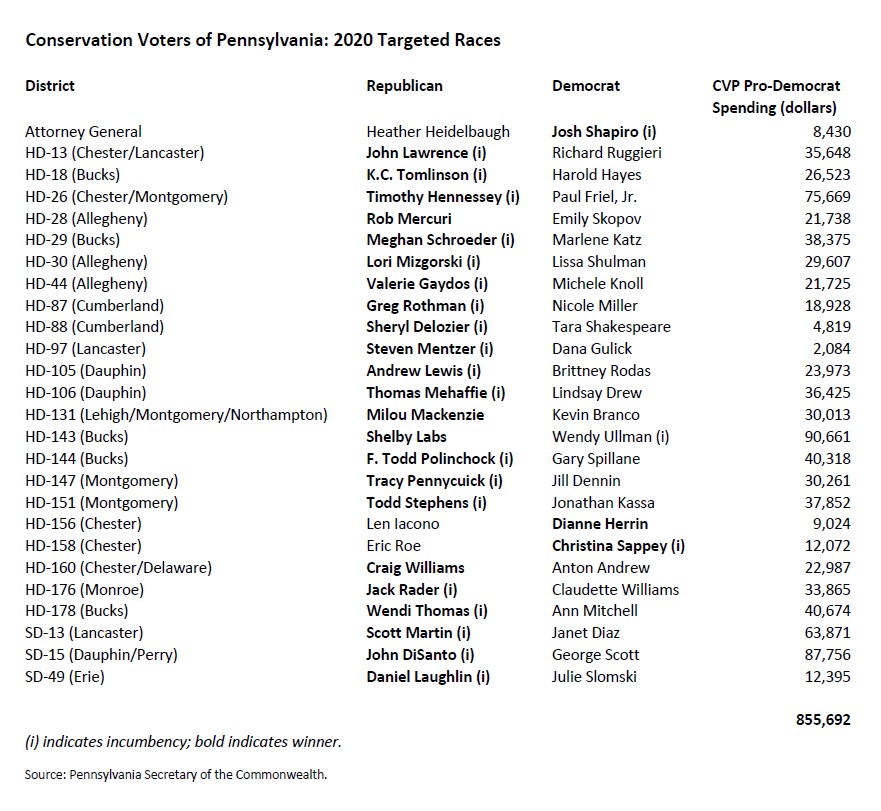 Across the United States, 2020 was largely a bad election year for Democrats. In Pennsylvania, Republicans picked up four state house seats and maintained their 28-seat majority in the state senate. Far from sweeping the field, CVP-backed Democrats lost in 23 of the 25 legislative races targeted by the group. In one district covering Bucks County (HD-143) the CVP-backed incumbent actually lost to her Republican challenger, despite CVP spending nearly $91,000 supporting her reelection. In Dauphin and Perry Counties, CVP spent almost $88,000 to support Democrat George Scott ($1.32 per Democratic vote), only for him to lose to the Republican incumbent by more than 3 percentage points (4,487 votes).
CVP's two legislative victories were both in Democratic-held districts in Chester County, southwest of Philadelphia: House District 156, where the incumbent won election to the state senate in a safe Democratic district (SD-19, just west of Philadelphia) and so did not appear on the 2020 ballot, and House District 158, where the incumbent Democrat narrowly won reelection by a scant 508 votes.
CVP is heavily funded by national environmental groups. To date, known donations include:
$1,160,757 from the League of Conservation Voters and LCV Education Fund,
$10,000 from the Energy Foundation and another $10,000 from its 501(c)(4) Energy Action Fund,
$20,756 from the Federation of State Conservation Voter Leagues,
$41,500 from the Natural Resources Defense Council Action Fund, and
$45,024 from the Alaska Wilderness League Action.
In the next installment, note how Pennsylvania Environmental Council and PennEnvironment are advancing their left-wing environmental policies.